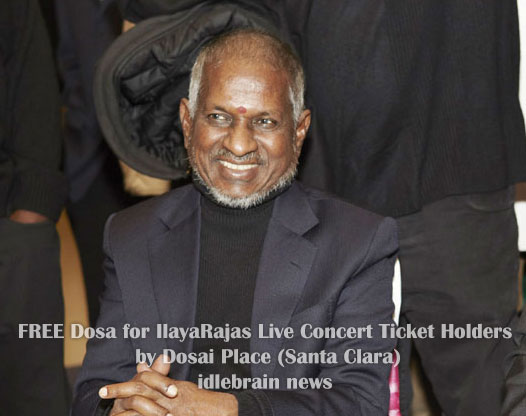 1st March 2013,
Hyderabad
Ilayaraja, a legendary Indian Musician, who received many accolades across the world for his contribution to the Indian Music, is now coming 1st time to Silicon Valley to mesmerize us with his music.
The musical extravaganza will kick-off on March 1, 2013.
No doubt, the day will be a red letter day for the music lovers.
As the live concert is round the corner, Dosai Place Management is proudly presenting the exotic offer for the music lovers by offering FREE Dosa for IlayaRajas Live Concert Ticket Holders all day on March 1st 2013, Friday
IlayaRajas Live Concert Ticket Holders get ready to catch/avail the FREE Dosa offer.
Indulge/Enjoy the music with lip-smacking Dosas. Blend the musical sound with our South Indian favorite foodie.
For more info Pl call us @510-409-1309
Dosai Place Management
2665 El Camino Real
Santa Clara, CA 95051
www.dosaiplace.net