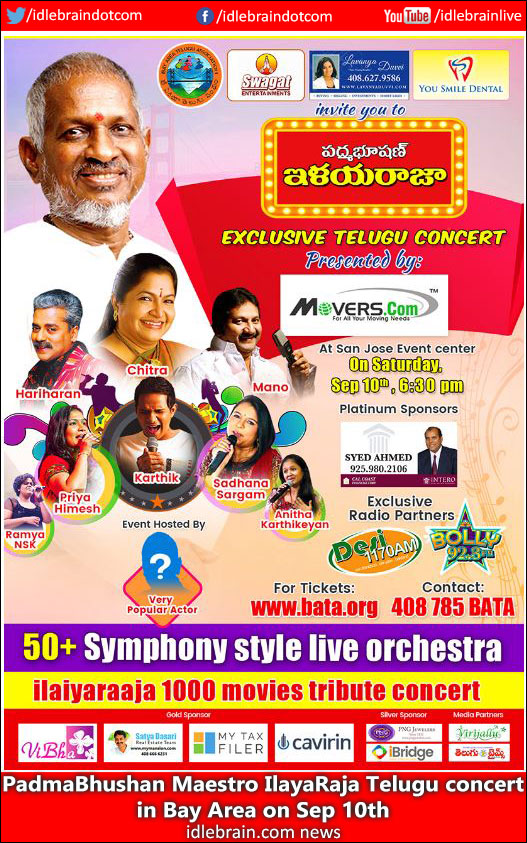 23 August 2016
Hyderabad
Bay Area Telugu Association (BATA), Swagat Entertainment,
Lavanya Duvvi & You Smile Dental
Proudly Present
'Isaignani' 'Mozart of Indian Cinema' 'The Musical Genius'
Padmabhushan 'Maestro' ILAIYARAAJA(Live in Concert, Exclusive Telugu)
The Biggest Telugu Concert ever in USA
Bay Area Telugu Association (BATA), Swagat Entertainment, Lavanya Duvvi and You Smile Dental proudly present 'Isaignani' 'Mozart of Indian Cinema' 'The Musical Genius' Padmabhushan 'Maestro' ILAYARAJA, Live in Concert, performing in Telugu Language on Saturday September 10th at San Jose Event Center in San Jose, California, USA.  
Sri Ilaiyaraaja will be performing in an Exclusive Live Telugu Concert for the very first time ever in the largest ever Telugu Concert in North America.  This spectacular event will feature the musical journey of Maestro in Telugu Cinema through the years.  The concert will feature a Symphony Live Orchestra consisting of more than 50 musicians, chorus singers and will feature eminent singers of South Indian cinema such as Chitra, Sadhana Sargam, Mano, Karthik, Priya Himesh, Anitha Karthikeyan and many more.
Tickets for the concert are available online at Bay Area Telugu Association or www.sulekha.com.  For more details on the concert and sponsorship information please visit www.bata.org.