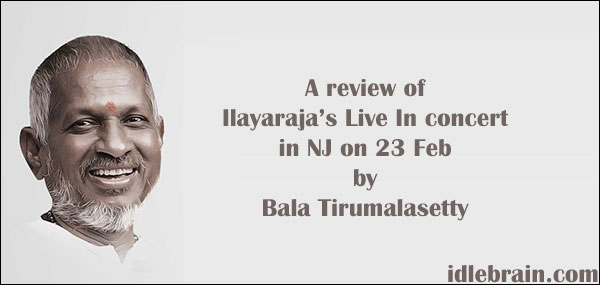 Concert is a small word to explain what happened in the Prudential Center, Newark, NJ in the US of A on the evening of Saturday, Feb 23rd. This was a carefully planned and extraordinarily executed recital by the 'music god' himself. And, the living legend singer, the great 'SPB' shared the stage with his friend. Ilayaraja Sir's first ever concert in the US attracted thousands of fans from New York/New Jersey area in addition to many people from many other states in the US, some from as far as Ohio, Illinois, Florida, Utah and California. The Prudential Center has a seating capacity of over 17,500 and as far I could see, most of the seats were occupied.
The event started with a few emcees opening the show and engaging the audience until it was time. The time for the audience to see someone admired by millions of music lovers from India. When the emcees announced that Ilayaraja Sir was about enter the stage and asked the audience to be silent, there was a pin-drop silence in the auditorium for more than 2 minutes. Amidst that silence and the only thing you could hear was the breath of excitement from the fans, the Maestro entered the stage in his traditional wear (white Dhovathi, Kanduva etc.) and the whole stadium gave him a standing welcome.
And then the magic has begun and the next 5 1/2 hours enthralled the audience with various songs from Telugu and Tamil movies. There were many songs that resonated well to everyone, as the tunes were popular in both languages. Throughout the performance, singers/anchors and Sir himself conversed in Tamil, Telugu and English to make it feel personal for all audience. The team that performed included Chitra, Nagoor Babu, Karthik, Yuyan Shankar, Karthik Raja, Bhavatharini, Geeta Madhuri, Ramya apart from over 40+ musicians and Chorus singers. Being a Telugu guy, I thoroughly enjoyed the following songs: Jagadaananda Kaarakaa (Sree Rama Rajyam), Ninnu Kori Varnam (Gharshana), Mounamelanoyi (Saagara Sagamam), Lalitha Priya Kamalam (Rudra Veena), Balapam patti Bhamma Ballo (Bobbili Raja), Oh Priya Priya (Geetanjali), Prema Entha Mandhuram (Abhinandana), Botany Paatamundhi(Siva) etc.
Some highlights of the event (and some are strictly my opinions):
• Responding to SPB's question as to why Ilayaraja doesn't do many such public shows, Sir stated that he cares a lot about presenting the original music exactly and any small mistakes in the live performance hurts him a lot.
• Ilayaraja was really serious about producing the original quality with precision on the stage. When there were a couple of small mistakes by the musicians (that not many people can realize), he stopped the performance, corrected the mistakes and restarted. And, he didn't hesitate to admit that on the stage so publicly. That is how much he cared about his team's quality outcome.
• Listening to SPB's voice live with Ilayaraja' s orchestra was a blessing. I can't explain in words that feeling. SPB also engaged audience with his funny conversations with Mano and Chitra and at the same praising Ilayaraja.
• SPB in a very few songs tried to improvise (I think), but that changed the original quality feel of those songs. (No disrespect intended, purely my personal opinion). Even SPB himself admitted that he may have made some minor mistakes singing Lalitha Priya Kamalam (originally sung by Yesudas).
• Chitra stood out to me as the best singer of other performers. She was humble, confident and sang with 100% perfection. Karthik and Mano did a great job as well.
• People were told not to 'whistle' during the event. That was respectfully followed by the audience.
• Ilayaraja at times was frustrated with some people shouting and asking for other songs, but he explained the process of preparation for this event and how difficult it will be to perform songs without preparation.
The last song performed was heart-touching. SPB and Ilayaraja conversed through the making of song 'Hoi Raa Hoi, chalaaki chinnadhi undhi' and ended the event singing the tune of 'Nee goodu chedirindhi, nee gunde pagilindhi' (title song of Naayakudu) with altered lyrics. The Telugu version was sung by SPB and the Tamil version by Ilayarja and the lyrics represented a message from Ilayaraja thanking the USA audience and appreciating their love towards his work.
Overall, this was an event that audience will treasure in their hearts for a long time. Organizers Chinna Vasudeva Reddy and Rajkumar Akella from IdreamMedia.com should be applauded to make this happen. They did an excellent job to pull this in a short notice and provided an opportunity for the Telugu/Tamil people in the US to attend a historic first time performance of South India's music gods Ilayaraja and SPB.