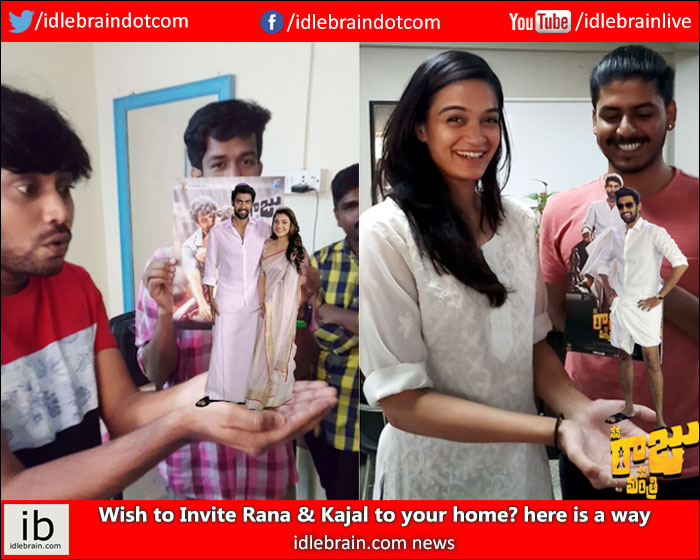 07 August 2017
Hyderabad
Nene Raju Nene Mantri stars Rana Daggubati and Kajal Aggarwal will reach, meet and greet millions of people at their homes. how?

All you have to do is check out the inserts in the newspapers at your doorstep for the Nene Raju Nene Mantri marker; download the app star scan the marker and boom!! Both Rana & Kajal will come right in front of you, allowing you to click a selfie with them.
For those who can't find insert need not worry, just download the app star from your mobile, print the marker from a simple home printer in a A4 size paper scan it from your phone and the stars will appear right in front of your eyes.
"It is a first of its kind experience ever, for people to instantly connect with their favorite stars right within the space of their home," say the makers of the film who made this experience possible.
Actor Rana Daggubati's upcoming multilingual wholesome family entertainment Nene Raju, Nene Mantri, is probably the first Indian film to get 3D Augmented Reality (AR) motion posters.
After, using the inventive AR technology to successfully create immersive 3D AR motion posters for their lead characters Jogendra and Radha in theatres, now the Augmented Reality company "Avantari" has enabled the technology to reach millions of homes.
Sharing the excitement earlier through his micro blogging site Rana had said guys some serious technological breakthroughs in terms of storytelling and advertising.
Taking this excitement further to homes is absolutely freaking and so much fun as people begin to experience AR at home and connect with their stars at home right at this moment.
Check it out!!!! You will love it.
Directed by Teja, Nene Raju Nene Mantri is produced by Suresh Babu Daggubati, CH Bharath Chowdhary and V Kiran Reddy under Suresh Productions and Blue Planet Entertainments. The film stars Kajal Aggarwal, Catherine Tresa and Navdeep , Nazar and in the lead.