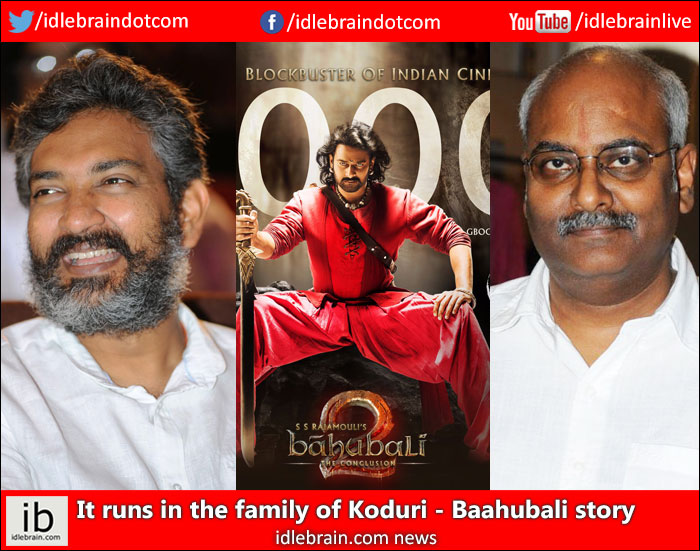 08 May 2017
Hyderabad
3 generations of Koduris worked together for Baahubali which is appreciated by three generations of movie lovers
In a rare display of teamwork from a family, Baahubali franchise has three generations of Koduri family working together.
1) Shivadatta~ Keeravani~ kala bhairava and Simha Koduri
2) Vijayendra Prasad~ Rajamouli~ Karthikeya
3) Koduri Ramakrishna~ Raja Koduri
4) Shivadatta~ Kalyana Ramana ~ Mayoor
Here are the contributions. Shivadatta has penned lyrics. Kalabhairava has sung songs (especially the emotional song Dandalayya). Simha Koduri has worked as hero in VR (Virtual Reality) of Baahubali. Karthikeya is the director of 2nd unit and also worked for promotions through his company 'Showing Business' that expertises the videos of behind the scenes. Koduri Ramakrishna and Shivadatta has jointly penned Kanna Nidurinchara and Bhali Bhali songs. Raja Koduri contributed in technical departments through Radeon. Kalyana Ramana supervised the music of Baahubali. Mayoor is the kid who gave voiceover at the end of Baahubali 2 film (అంటే తాత మహేంద్ర బాహుబలి కొడుకు…).
It's also a known fact that the contributions of Sri Valli (wife of MM Keeravani) and Rama Rajamouli (wife of Rajamouli) are huge in the capacity of line producer and costumes for the magnum opus Baahubali.