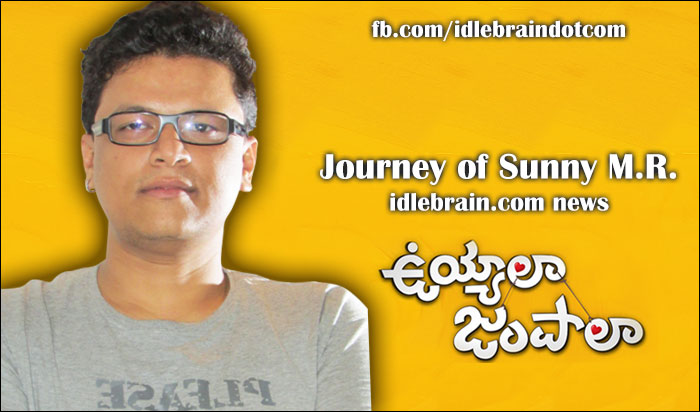 17 December 2013
Hyderabad
All it takes is an application form for your screen name to get set! When Sunny Sanour sent a person to fill up a form, he accidentally wrote his name as Sunny MR (MR for mister). That Sunny M.R. says has been the luckiest thing to happen to him in the world of music.
Starting out as a sound engineer at the age of 15 (Yes, fifteen years) as an assistant to his more accomplished brother, Shadab Rayeen, Sunny became an independent sound engineer within 6 months, mixing, mastering and recording over 350 albums in the first 6 years of his life. This Patna born lad found his destiny in Hyderabad city where he worked mainly for Keerthana Digital studios. Sunny recalls "There were times when producers would walk into the recording room and ask me where the engineer is? I was just 16-17 then. Keerthana was a school for me. First I hated working on most of Carnatic classical album but realized later on how much all that had helped me. Later on, I heard Jazz and I felt Jazz is a harmonized version of Carnatic classical. I learnt to differentiate between ragas, I learnt about voices, I was earning and learning".
Now 27 years, Sunny M.R. not only delivered a super hit "Swamy Ra Ra" in Telugu but is also the music producer for renowned composers like Pritam and Amit Trivedi in Mumbai. He worked on the songs and background score for films like "Barfi" and "Yeh Jawani Hai Deewani" recently and is very proud of his work there.
So what took Sunny M.R. to Mumbai? Sandeep Chowta. A chance of meeting him in Mumbai through a family friend convinced him that money is not important but exposure is. He took a huge salary cut and joined Chowta as a sound engineer in Mumbai. And after three years and a chance meeting with a young upcoming singer cum musician, Arijit Singh, Sunny moved to work with Pritam. Arijit Singh, now well known for Ashiqui 2 and Sunny are best friends and were music producers for Pritam. "Pritam is like a music factory", Sunny says. "There is so much of work to do and you have to learn very quickly to keep pace with him and his work".
A sound engineer turned music director? Surrounded by music at work from such a tender age, Sunny says he just grew on it. During his days in Hyderabad, he became good friends with the Late Anil Kumar, the music director and Krishna Chaitanya, lyricist turned director. He used to play bits of his compositions and Sunny remembers Anil always saying "One day I will direct a film and Sunny will be my music director". It was sometime in 2008 that Sunny got a bit serious about his Music Production. He subscribed to an online film making course for 3 months to understand films and background score. Sunny says it was the first big step towards taking music seriously. However, it had to stay in the closet as he wanted to learn more stuff as a Music Producer and is still learning on.
In 2012, Krishna Chaitanya called him from Hyderabad. A new film "Swamy Ra Ra" with a debutant director friend and Chaitu said Sunny has to do the music. "I panicked that day and refused to do it". Chaitu convinced me that I should. I met and had a long chat with Sudheer Varma, the director, and shared a great vibe. And then, they wanted a tune in 10 days. "For nine days, I couldn't think. I felt so incompetent. I was not trained in music. The tune was in my head. I couldn't sing it. I couldn't play it. I was wishing they would never call me. Chaitu was relentless. On Day 10, I pushed myself and made the scratch. I borrowed an electric guitar and asked Arijit to play it because he would understand what I was singing. I had him on my mind as the singer. He sang and wrote gibberish lyrics in Bengali too. My brother mixed the scratch early morning and we sent it out and then waited with bated breath". Sudheer and Chaitu just loved it. It is the main song of "Swamy Ra Ra"!!
Of course, "Swamy Ra Ra" music became a super hit even before the release. Sunny got a lot of phone calls but he admits he was suddenly on the spotlight. He was literally pulled onto the stage for even the audio function!
One day in March 2013, Sunny got a facebook message from Uyyala Jampala producer Ram Mohan asking him whether he would be interested in a film that is set in the coastal side of Andhra. Ram and Virinchi wanted freshness but the songs and score had to be native and melodious given that it was a love story. Ram narrated the story and asked Sunny whether he could do a sample tune to check whether they are on the same page. Ram now says "I thought Sunny must have taken offence! He never responded until 2 months later". Sunny said he actually forgot about this (Swamy Ra Ra score work was going on) and one fine day, remembered this was pending and due! He worked on a tune and sent it out! Ram and Virinchi were excited and Sunny flew down to Hyderabad to watch the talkie, which was 80% complete.
Sunny says "In my entire career, there are two firsts about this film. One, I saw a film before I composed songs. Two, I composed a tune for a song after the lyrics were done".
Here are more details of the songs
NIJANGA: The first tune, which Sunny sent out. Sunny says he wanted to set the song in a country music kind of genre. He had watched films that were set periodically but used contemporary music and they worked. Sunny used a Charango, a European instrument with Dotara, an Indian instrument to give it an Indo European mix. He used a string quartet in London to get a country feel. In choices of voices, he used Harshika in Hyderabad. Harshika was an old friend and now a teacher in St Francis. He used his own voice in the last bit which was the original humming as all his team members insisted and the Producer and Director were happy with it too.
LAPAK LAPAK: This song, Sunny admits, was the most challenging song. Dialogues were lyrics and he had to compose a tune based on the dialogues. Sunny watched a lot of Broadway musicals like 'Hairspray' to see how they do it. Sunny prefers to retain the same voice. So Harshika sang for the main lead, Deepu sang for the boy and Bindu for the second female lead.
MANA BANDHAM: A montage song expressing pain and helplessness. Sunny remembers 2-3 tunes being rejected by the Director. Sounds filmy, but the tune exactly happened when Sunny had to shift out of his house all of a sudden and was very disturbed. His equipment everything had to be moved out. Sunny sought for the visuals from Hyderabad (as it was a montage and already shot), edited it himself and put the tune together with the visuals. This gave the right feel of how the tune would be. A budding lyrcisit, Vallabh Srinivas wrote the lyrics in 30 minutes in a recording studio after watching the video and the song was recorded!
UYYALAINA JAMPALAINA: The title song of the film was the last to go. Earlier it was NIJANGA. Ram had production hassles with the Andhra agitation. He didn't want to take the film out of the state. The only way out was to take the song indoor and make it like a dream sequence. With a new brief and a duet to be made out of it, the title song delayed the shooting process as well. Sunny wanted to do something unique and used claps and body percussions as the main groove. Body percussions are making sounds by clapping or slapping your hands against thighs, mouth, etc. Sunny made the pattern first and then composed the song. He wanted to give it a raw and earthy feel. The vocal tune was left as it is as the theme of the film. Naveen Nayak, an associate director of the film recommended Anudeep to sing the song. Sunny was happy with the choice and Anudeep and Harshika sang the song.
HINDI VERSION OF MANA BANDHAM: Virinchi was insistent that Arijit Singh sing at least one song for the album. Ram and Sunny felt it is best if Arijit sings a Hindi song for the album. Arijit loved the tune and the lyrics were written by Ashish Pandit. Given the strong roots of Hindi in Hyderabad, Ram felt it will be like a breath of fresh air to include a nice Hindi song in a Telugu album.
About working with Sunshine Cinemas, Sunny found Sunshine Cinemas to be a very young team (almost all team members are newcomers and less than 25 years) led by an experienced producer, Ram Mohan. Virinchi being a debutant director had the able support of Ram and his executive producer, Prasad. Within the team, they had Naveen Nayak, an IIT Madras Alumni, who is great with music and spotting singers and talent. The best part of Sunshine, Sunny says, is they share knowledge, appreciate that music can't come out of thin air and give much needed space.
Sunny has signed another film with Sunshine Cinemas with another debutant director to helm the project. He is also scoring music and songs for the friend who backed him for his first break, Krishna Chaitanya, who is making his direction debut with "Rowdy Fellow". He is also in talks with Sukumar Entertainments for their projects.
Sunny hopes to work on around 3-4 films a year and says, "It is the story that is most important to me, then the team and the vibe we share. I worked to survive from an age of 15 and I know money is just a means not the end".
For a 27 year old, Sunny's maturity belies his years. Will Sunny M.R. change his principles once the big Tollywood stars, directors and producers come calling? Let's hope he will not. And be accommodating towards the newer genre of films being made these days!!