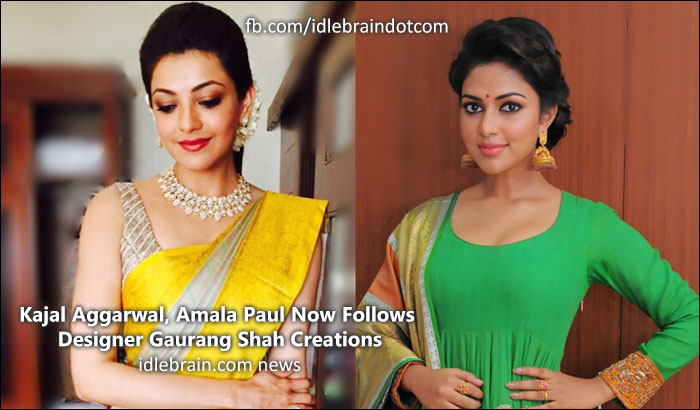 21 April 2015
Hyderabad
After charming Sonam Kapoor, Vidya Balan , Kiran Kher and host of other actress in Bollywood, Gaurang Shah creations are now sought by popular south india stars Kajal Aggarwal and Amala Paul.
When Amala Paul wore a green floor length Khadi Anarkali , with zardosi embroidery from Gaurang's "Chandbali' creation with a kanjeevaram duppatta in a recent launch, she couldn't stop her admiration for the hand-woven creation and said "Love this creation of pure elegance!! You are a true genius Gaurang .. Thank you !"
What charmed the beautiful Kajal Aggarwal was Gaurang Shah's grey tie dye ikkat kanjeevaram saree with a traditional yellow border inspired from the 16th century temple art. The sari she wore recently for at a launch in Chennai was a pure amalgamation of traditional korvai weaving of kanchipuram and contemporary ikkat of Andhra Pradesh.
My collections are in admiration of the women blazing the trail in fashion, they truly inspire fashion trends and I am really pleased the gorgeous looking Kajal and Amala have worn these exquisitely crafted dresses by me and expressed their appreciation for hand-woven designs. It will certainly take traditional wear one notch up in the fashion consumer souk and inspire the young generation to indulge in these all occasion hand-crafted fashion creations. Gaurang Shah said.
The award winning textile and fashion designer Gaurang Shah is known for his revival work in Jamdani. The designer works with more than 500+ weavers across the country to create premium hand-woven fashion in Khadi, Cotton and Silks. His passion is to constantly reintroduce vintage Indian fashion with a whole new modern outlook both in the ramp and in the marketplace without moving away from the glorious yester year's craftsmanship.
The designer is today widely acknowledged for his revival work in Indian culture and heritage in the form embellishments, weaves, embroideries, drapery and textures that provides his designs contemporary edge.
His label is now available in his brand stores 'Vaya' in Mumbai and 'GAURANG' in Chennai, Bangalore, Hyderabad and Kolkata.