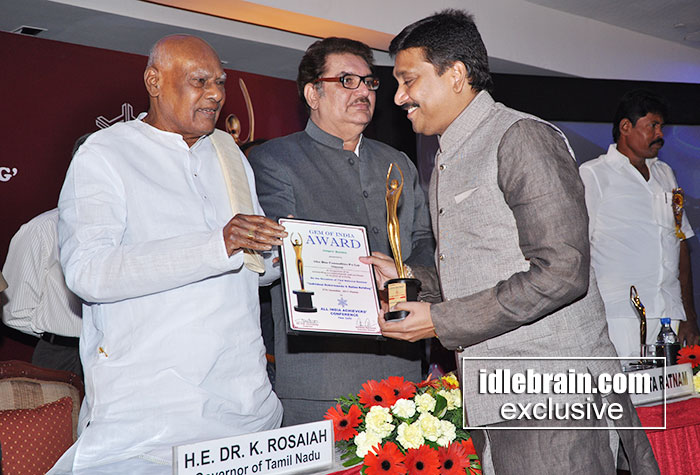 02 December 2013
Hyderabad
"Kalamandir" receives Arch of Excellence in Business Organization category.
"Gem of India" Conferred to Mr. Prasad Chalavadi.Founder,chairman & Managing Director Kalamandir.
These awards were presented by his Excellency Dr K Rosaiah,Governor of Tamil Nadu.
About All India Achievers Conference - All India Achievers Conference, is a non-profit, non-political organization which was set up in 1989 by a group of enterprising journalists, writers, social workers, philanthropist, entrepreneurs & leading industrialists of the country having its headquarters in New Delhi and branches in all major cities. 'AIAC' - not only reckons & highlights individual achievements of people from various walks of life who have scored great & significant achievements in their respective fields with the "AIAC Awards for excellence" (in various categories) but also arranges conferences, seminars, formal & informal discussions amongst such achievers for their benefit at large.
Address by his Excellency Dr K Rosaiah,Governor of Tamil Nadu at the inauguration of 73rd All India Achievers Conference at Hotel Le Royal Meridien,Chennai on 27.11.2013.
It is a pleasure to inaugurate the 73rd National seminar on "Individual Achievments & National Building" , presents the Awards of Excellence to eminent personalities and address this distinguished gathering here this evening.India is one of the Largest democracies in the world with rich culture and tradition and its civilization dates back to more than five thousand years. we are a nation with 1.2 billion people with huge human resource and brain power. Harnessing of this huge manpower for the growth and development of our nation will make india a superpower.
As said the religion of humanity is greater than all religions,india is not only a home to many religions but is also a place filled with numerous dedicated voluntary and social service organizations. It is an ocean of humanity.Buddha said "Thousands of candles can be lighted from a single candle and the life of the candle will not be shortened Happiness never decreases by being shared".
It is nice to see eminent person from various fields like information technology,performing Arts,Adventure sports,social work,Education etc.
Elated at receiving the "Gem of India" & Arch of excellence Award - Mr.Prasad Chalavadi, Founder,Chairman and Managing Director Kalamandir Said "It is such an honor for me to be awarded this title. In fact Kalamandir have always endeavoured to be at the forefront of changes in our industry, bringing the very best in fashion to our customers and make it a point to always appreciate our customers with great deals without compromising on quality. We are committed to continuing this policy. These awards motivate us to bring better products to our customers and serve them even better".i would like to extend my thanks and are grateful to Customers,Kalamandir staff, & well wishers for helping us win this title
About Sai Silks (Kalamandir) Ltd:
We are an upcoming retail house in the states of Andhra Pradesh and Karanataka in Southern India focusing primarily on traditional women wear of India i.e. Sarees.We operate 17 retail stores (company-owned) out of which 6 are in Hyderabad, 6 in Bangalore, 2 in Vijaywada and 1 each in Guntur,Kancheepuram & Warangal. These 17 outlets are spread over about 129035 sq feet. started as a retailer of sarees in Hyderabad in August 2005 at a very modest scale with a Retail Outlet with a floor space of 2000 square feet in Ameerpet, Hyderabad and displayed the traditional sarees like Silk Sarees, Hand loom Sarees, Synthetic Sarees, etc. We have till today been focusing and concentrating on the sarees segment of women's wear especially mid range and upper range, with a considerable margin. With evolution of retail industry in India and change in consumer aspirations and lifestyle, we diversified our portfolio of offerings to include other retail goods like Women dress materials, Kids wear and Men's wear. Currently, we sell different varieties of sarees for different occasions and celebrations and ready-made apparels for women, men and kids in our retail malls.