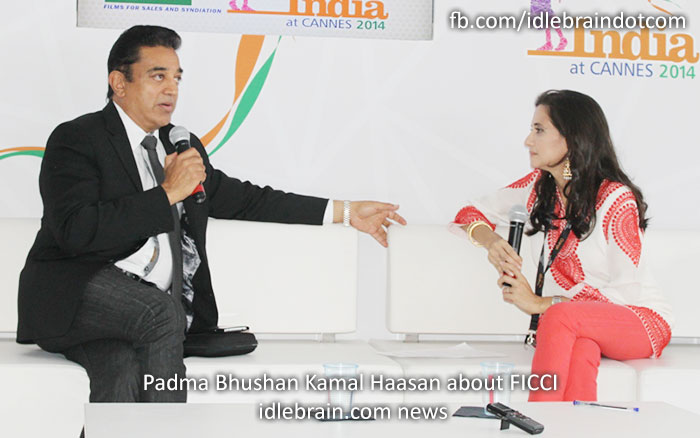 19 May 2014
Hyderabad
Prior to leaving the Cannes Film Festival and returning to India to finish work on Vishwaroopam 2, Dr Haasan extended his congratulations to the Ministry of Information & Broadcasting and FICCI. 'It is important that the filmmakers of today find the right people to connect with,' he said. 'And so it is a great initiative on part of the Ministry of I&B and FICCI to develop the programme of the India Pavilion in such a way that many important international names in the film business have been coming to the pavilion – providing Indian filmmakers and delegates at Cannes the rare opportunity to interact with them. The international community too will benefit from the wealth of knowledge about the Indian film sector that will be at their disposal thanks to these interactive panel discussions, these one-on-one meetings, and from the India Film Guide, which contains all sector-relevant information for Indian cinema today. As an Indian filmmaker, I am proud to have been part of this wonderful endeavour by the Ministry of Information & Broadcasting in making the India Pavilion at Cannes a hub of networking, business and informative interactions to promote partnerships between the Indian film fraternity and the global one. I am happy to know that going forward Indian filmmakers will have the support of the government in pushing forward their business and creative ventures.'
Organized by the Ministry of Information & Broadcasting, Government of India, in association with the Federation of Indian Chambers of Commerce and Industry (FICCI), the India Pavilion was inaugurated on 15th May by His Excellency Arun K. Singh, Indian Ambassador to France; Shri Bimal Julka, Secretary, Ministry of Information & Broadcasting, Government of India; veteran filmmaker and producer Ramesh Sippy; renowned filmmaker Sudhir Mishra; Uday Chopra, actor, producer, and CEO, YRF Entertainment; screenwriter Arash Amel; Jerome Paillard, Executive Director, Cannes Film Market; Dr A. Didar Singh, Secretary General, FICCI; filmmaker and producer Bobby Bedi; and Dr Kamal Haasan, who led the Indian film industry delegation at Cannes this year. 'We make one thousand films a year, but our films should be in the Top 20 in the world,' said Dr Haasan at the inaugural, as the size of the Indian film industry and the question of India's performance in the contemporary global cinema landscape were discussed. 'Not all our films are made with a broader vision. But today more and more new filmmakers are making movies that broaden the vision,' he added.
Dr Haasan lauded the new breed of filmmakers in India, who are straying from the path of the commercial mainstream formulas. Speaking at the session on 'Co-Production: Merging Resources to Create Magic' – a power-packed panel discussion comprising, among others, Shri Bimal Julka, Secretary, Ministry of I&B; Dave Gibson, CEO, New Zealand Film Commission; Carolle Brabant, Executive Director, Telefilm Canada; Franck Priot, Deputy Director, Film France – Dr Haasan said that co-production treaties allow the filmmakers of today opportunities that were unthinkable a decade or two ago. On being asked why we have not yet cracked the competition section at Cannes and won the Palme D'Or yet, Dr Haasan said 'The problem is that we are a self-sufficient nation!' He stressed that Indian filmmakers need to stop being satisfied with the familiarity and safety of local markets and start taking risks – so that India can constantly produce truly global content that is appreciated across the world.
Dr Haasan was also the guest of honour at the exclusive networking receptions at the India Pavilion, one of them hosted by the Ministry of Information & Broadcasting, Government of India, and three of them co-hosted by the ministry, and film bodies, producers and filmmakers from other countries: New Zealand, Australia and Germany. The New Zealand event was organized in coordination with the New Zealand Film Commission; the delegation was led by NZFC CEO Dave Gibson, and comprised filmmakers and producers from the country; Screen Australia CEO Graeme Mason led the Australia contingent; and German Films organized the third event. Open to all Indian filmmakers, producers and industry body members at Cannes this year, these new initiative events were aimed at promoting and forging ties for co-production and partnerships between India and these countries. Alongside these events were structured B2B meetings between Indian delegates and international stakeholders in order to facilitate business promotion and explore opportunities for partnership between the Indian film community and the global one.
In between appearances at the India Pavilion and luncheon and dinner with key industry stakeholders, Dr Haasan made the time to watch as many screenings at the festival as he could. 'I like watching films,' he said.