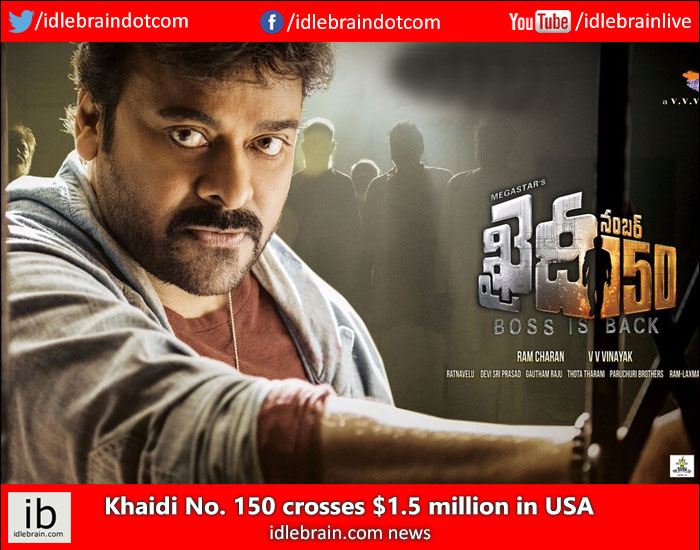 13 January 2017
Hyderabad
Chiranjeevi had always been an undisputed king in overseas before he stopped making films 9 years back. His films like Indra, Tagore and Shankar Dada MBBS collected highest Telugu movie collections in USA. But Rentrak which tracks the box office performance was not there, hence there is no documentation to show the correct figures. Khaidi No. 150 is the first Chiranjeevi movie that's released after box office tracking is enabled in USA. It has collected a gross of around $1.29 million for premieres on Tuesday. Since there are many offers on movie tickets on Tuesdays in USA, the effect of their promos helped Khaidi No. 150 to gather such an astonishing opening. But, we can't deny the command Chiranjeevi holds on box office as there offers have limits on the spending.
Khaidi No. 150 has crossed $1.5 Million be Wednesday and is all set to cross $2M figure by weekend. The Federal holiday on Monday is also expected to help the weekend numbers of Khaidi No. 150.
In India also, Khaidi No. 150 is doing exceptionally well and showing the stamina of Chiranjeevi in new expanded market of Telugu cinema. Khaidi No. 150 has become the fastest Telugu film to collect 50 crores gross. On the opening day itself, this movie has collected a gross of Rs. 47.07 crores.