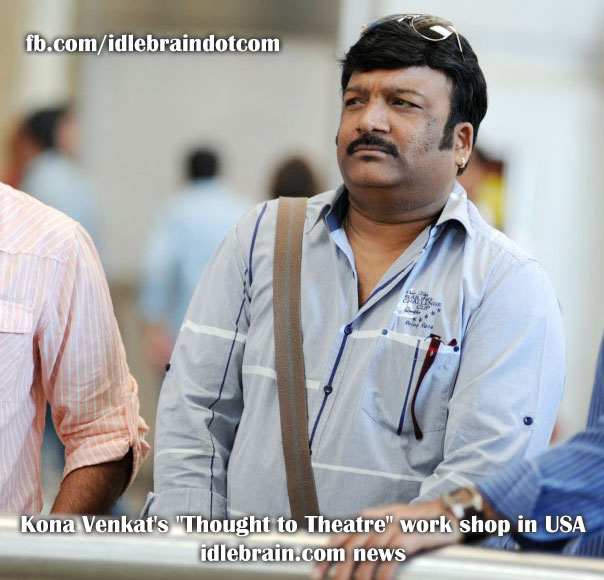 13 June 2013
Hyderabad
'Film' - for some its a source of entertainment , for some its passion, for some its a 'bug'..
A bug which can bring u fame or can burn u in flames if ur not careful.
"Thought to Theatre"
In 1995 I produced a film with the same 'bug' and not only i burnt my hands but myself. It took several years to recoup the losses and to stand on my feet again. Mr. Ramgopal Varma my friend and my mentor showed me the path and made me a writer with his film 'Satya' in 1996. I never looked back after that. 17 years 33 films. I thought I should share my knowledge, experience and my point of view of "FILMS' in this work shop, which I named it as " Thought to Theatre".
I'm going to cover various stages of film making in this work shop.

1. Developing an Idea:
There is a story teller in everyone of us. We must have told many stories to our parents in our childhood. If u have little knowledge and the knack, ur ideas can become movies. With my knowledge as a movie writer, I can help u to become professional screen writers. I will teach u how an idea is developed into a commercial script.

2. Pitching :
After developing ur idea u would be needing a producer and artists to make a movie with ur story. I will also be sharing my experience which will help u convincing them. This is a very important stage of film making. What actually convinces the artists and producers to trust u and ur story? How u should pitch ur story professionally ? My work shop will give u some in sight.

3. Budgeting and pre production :
After ur story is accepted by the principal artistes if u have to produce on ur own, it's very imp for u to understand the budgeting of a movie. I also handled the productions of some big films in Bollywood as an executive producer. ( Satya, Shool and love keliye kuch bhi karega etc) With that experience I would be able to guide u in this area as well. If ur preproduction is well done then u save lot of money in production.
4. Direction :
This is the most imp stage of film making. In my work shop I will also be sharing my knowledge in direction. I may not tell u how to direct a movie but I will certainly tell u how not to make. U should also know the practicalities involved apart from the technicalities of direction.
5. Marketing & releasing :
This is the final stage where ur thought is ready to hit the theatres. Most of the movies that are filmed remain in the laboratories as the makers lack knowledge in this area. With right strategy and planning ur film can go into audience. I will share my knowledge and experience in this area as well, which will certainly help u deal with the situations practically..
So join me to know the most practical way of making a film in my work shop - "Thought to Theatre"