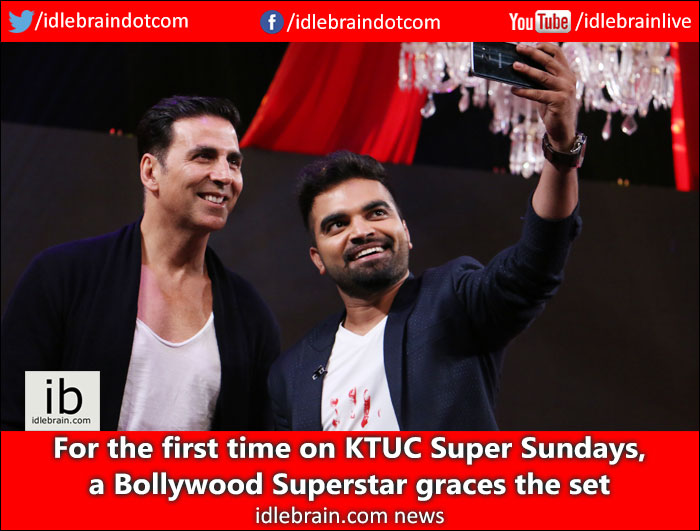 13 August 2016
Hyderabad
Konchem Touch Lo Unte Chepta Super Sundays has been a very special season because of the special guest celebrities who have walked into the show. The episodes have been highly entertaining with various rounds of interviews and fun games. The heads up or dumb-charades round is one of the most anticipated among all the rounds in the show. Anchor Pradeep Machiraju makes sure to keep every episode going at a pace which keeps the audience at the edge of their seat with interest.
The third season of KTUC has witnessed super celebrities like Mahesh Babu, Devi Sri Prasad, Lavanya Tripathi, Ileana, ALlari Naresh, Jeevitha Rajasekhar and the list goes on. For the first time on KTUC Super Sundays, the audience will witness Bollywood Superstar, none other than Akshay Kumar. To promote his recent movie Rustom, Akshay Kumar along with his co-actress Ileana gave an interview on the sets of Konchem Touch lo Unte Chepta Super Sunday. The episode promises to be super entertaining where Akshay Kumar tries to speak in Telugu. Few other highlights are where Akshay Kumar tries to deliver a Pawan Kalyan Dialogue.
Don't miss to watch Konchem Touch lo Unte Chepta Super Sundays this weekend, 14th Aug 2016 at 9 PM on Zee Telugu.