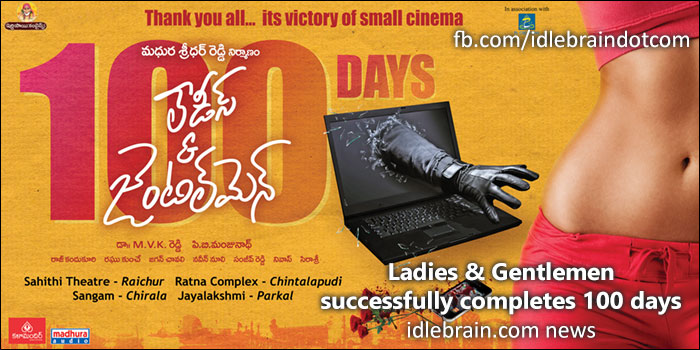 09 May 2015
Hyderabad
Ladies & Gentlemen is produced by Madhura Sreedhar Reddy along with Dr. MVK Reddy and Madhura Sreedhar's associate PB. Manjunath debuted as director with this film. Hyped with the appreciation from Bollywood and Tollywood celebrities, this film released on 30th January and got overwhelming response from all over with good reviews and declared as a super hit. Today, Ladies & Gentlemen successfully completed its theatrical run of 100 days and still running in following theatres...
Ratna Complex - Chintalapudi, Sahiti Theatre - Raichur, Jayalaxmi Deluxe - Parkal, and Sangam Theatre - Chirala, said distributer Jakkam Jawahar Babu.
On this occasion, producer Madhura Sreedhar Reddy said, "Ladies & Gentlemen yet again proved that Telugu audience will always encourage concept based movies. This film is the best example for the success of small movies and I sincerely thank the audience and media for this huge success." Director PB. Manjunath says, "I am very happy that my first film itself a huge success and going to be remade in various Indian languages." Ladies & Gentlemen is presented by gotelugu.com, in association with PL Creations and Raj Kandukuri.
ACTORS
Chaitanya Krishna, Mahath Raghavendra, Sesh Adavi, Kamal Kamaraj, Swati Dixit, Nikitha Narayan, Jasmine Bhasin... and many others.
TECHNICIANS
Music: Raghu Kunche, Cinematography: Jagan Chawali, Story: Sanjeev Reddy, Dialogues: Nivas, Lyrics: Sirasri, Editing: Naveen Nooli, Production controller: Khan, Publicity designer: Anil Bhanu, Camera equipment: 24 Karat (Sai Charan Reddy), D.I: Annapurna Studios, PRO: G. Sreenivas (G.S Media).