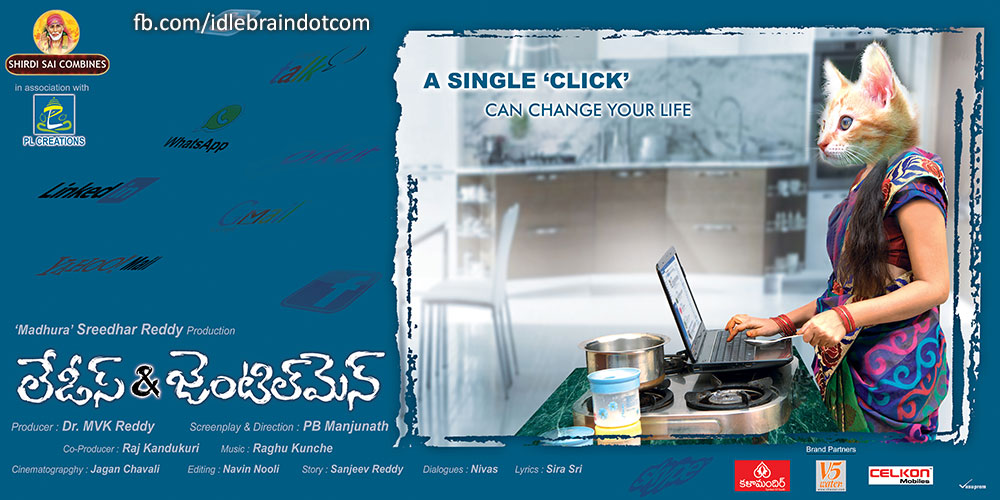 14 April 2014
Hyderabad
Here is an innovative poster about perils of using internet. A single click can change your life. This poster also shows the addiction of housewies to social media.
About Ladies & Gentlemen:
Ladies and Gentlemen a film that deals with the influence of social media and cyber crimes on NetiGens seeking relationships through internet.
Director Madhura Sreedhar Reddy, who showcased the views of the millennial generation in his youth oriented films like "Sneha Geetam", "It's my Love Story" and "Back Bench Student" turned producer to make "Ladies & Gentlemen" under Shirdi Sai Combines. PB. Manjunath, who worked in Madhura Sreedhar Reddy's Direction Department, is debuting with "Ladies & Gentlemen" as Director.
Madhura Sreedhar Reddy said "Ladies & Gentlemen" film has finished its regular shooting and is into post production now.
Audio release will be held soon and the film will be released in summer.
Ladies & Gentlemen is made in association with P.L. Creations and Raj Kandukuri under Shirdi Sai Combines banner and produced by DR.MVK Reddy and Madhura Sreedhar Reddy.
Casting: Chaitanya Krishna, Mahat Raghavendra, Adivi Sesh, Kamal Kamaraju, Nikitha Narayan, Swathi Deekshith and Jasmin Bhasin playing lead roles and the music is composed by Raghu Kunche, Cinematography by Jagan Chavali, Editing by Naveen Nooli, Story by Sanjeev Reddy , Lyrics by Sira Sri , Dialogues by Nivas , Art bySahi Suresh and Casting Agency: Murali Krishna