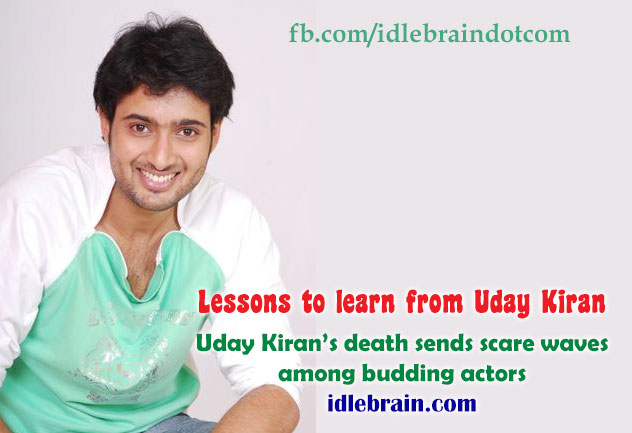 08 January 2014
Hyderabad
The shocking suicide of Uday Kiran has scared lot of budding actors and they started thinking seriously about their future. Financial planning and closeness to family is very important for actors who come at an early age to film industry. Most of the actors should have 'plan B'. If you are a successful actor, there is always many avenues to make money. One can either act in small-budget multistarrer or host TV shows to make good money even if they are not getting attractive solo hero roles. One shouldn't stick to the past glory and try desperate to reach it again when things are going horribly wrong for you.
Uday Kiran's death has become an eye opener for budding actors who have small or no hits in their kitty. There are two industries which have only one way - films and politics. The fame and money here is so addictive that you can't go away once you are in. People like Sobhan Babu who has amazing willpower and great financial planning did achieve the feat of staying away from this tempting glamor industry after gaining superstardom.
Few of the actors have other lines of business to support their income. Tarun is one example where he made hay in other field (real estate) though he lost few opportunities in film industry. The new generation of actors who have entered film industry is last half decade and very smart and are planning their career and future income properly.
It is extremely important to have a mentor/friend to confide in film industry if somebody is facing problems. This is where the family members make a big difference. A close-knitted family and good friendships among the industry personalities will help budding actors a lot. One can find new generation of actors bonding well and helping each other, which is a good sign for their future.
Uday Kiran is one rare and sad example where he didn't fit into any of the healthy scenarios mentioned above.