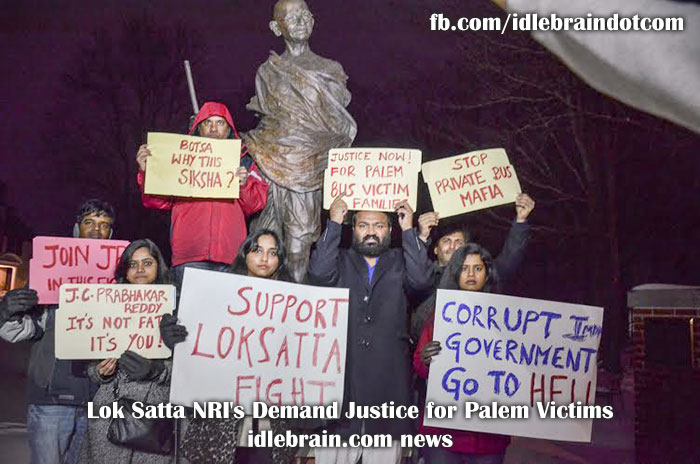 07 January 2014
Hyderabad
Lok Satta party launched fight against Travel mafia and it's role in blatant denial of justice to the families of victims of Palem bus incident. The party organised a series of protests against buses belong to Jabbar Travels in Hyderabad, Chennai, Bangalore and elsewhere. Andhra Pradesh state police arrested several Lok Satta leaders including Dr. JP, Mr. Katari Srinivasa Rao, Mrs. Hymavathi Pothineni and Mr. Ramu Dosapaty on Saturday and did not allow their protest.
The protest against inaction of government and the support to families was announced by Dr. Jayaprakash Narayan, national president of Lok Satta party, on Dec 28th, at the dharna organised by families of victims. Dr. JP gave one week notice to Jabbar Travels to pay the insurance to families. As they did not comply, several leaders of Lok Satta started a protest outside their office on Jan 4th. Since then the party units in in Andhra Pradesh, Karnataka and Tamilnadu tried to inspect and stopped unauthorised and illegally running buses.
People For Lok Satta, organisation of NRI supporters of Lok satta, has also organised protests in various cities and extended support to Lok Satta in their fight against Travel mafia. Manasa Mahathi and Pradeep chukkapalli organised peacefull rally at Mahatma statue at Boston and Sravanthi Yalamanchili protested in Chicago. Prakash Kapil from New Jersey condemned the arrest of genuine people in place of culprits and said, "Injustice is because of the nexus between Jabbar Travels, J.C. Prabhakar Reddy on whose name the bus is registered and ran illegally as stagecoach with no proper measures and Transport Minister Botsa Satyanarayana who colluded by not taking. We will continue to protest until the safety measures are in place and justice is done to families."Trivikram Gajulapalli questioned that people in Delhi changed the govt for one women death in Delhi then when 45 people are burnt alive in AP due to false practices of mafia and transport ministry then what should we do.
Dr. JP said, "It is an open secret that there is massive corruption in transport sector. Around 30 lakh trucks operate in this country and pay Rs 200 bribe on a daily basis - apart from many other bribes for license. Rs 60 Crores of bribes paid every day and A.P alone must account for 6-7 Crore." Mr. Ramu Dosapaty, Lok Satta GHMC leader, said, "It has been 66 days since the ghastly and totally avoidable accident that burnt lives of 45 people at Palem, Mahbubnagar. Even now, not even few safety measure have been taken. No compensation is paid. No investigation is done.Hyma Praveen said It has been year after Dilsukhnagar bomb blasts and not a single CCTV has been installed! Women cannot step out without fear. The government is totally corrupt and not accountable."