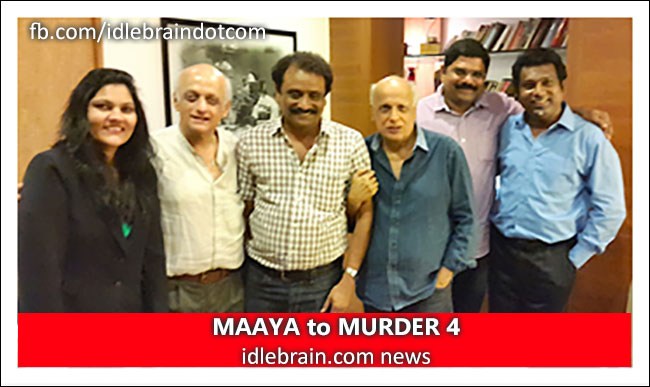 16 September 2014
Hyderabad
Maaya to Murder 4 is an inspiring story of success for young filmmakers in Telugu, it's a story that every young writer, director, producer, filmmaker can take spirit from - to dare, to dream, to dream big.
Madhura Sreedhar and Viren Thambidorai thank one of Bollywood's most maverick directors Mahesh Bhatt, the business acumen of one of India's most consistent hit filmmakers Mukesh Bhatt,and Vishesh Films for their belief in them. To be made by Vishesh Films, under the creative supervision of Mahesh Bhatt, 'Maaya' is being adapted as 'Murder 4'. 'Murder 4' will be directed by Neelakanta, the national award winning writer and director of 'Maaya'. 'Murder 4' will be a sequel to the superhit classic erotic thriller series.
It's a unique success for Telugu cinema as the entire team effort of 'Maaya' has been appreciated, recognized and now travelswith Vishesh Films to a national audience with Murder 4. The story of how a professionally managed system can make filmmakers explore opportunities outside the regional boundaries, how every creative endeavor has the scope to become great if its identified, nurtured, packaged and presented in the right format and forum.
Deriving its strength from the Mahesh Bhatt success formula of speed, quality, and cost, details of 'Murder 4' will be announced shortly. As Mahesh Bhatt says, "Speed, Cost, Quality - The key to success is in delivering top quality cinema, on par with growing market desires and with complete control of costs."
Shirdi Sai Combines and Josh Media and Entertainment truly believe that the success of South Indian cinema lies in encouraging good cinema, recognizing new talent, and expanding film businesses with content that can bourgeon beyond regional confines.
Madhura Sreedhar, Producer and Director, Shirdi Sai Combines says 'I loved the journey of Maaya to Murder-4. It gave me lot of confidence to produce/direct out-of-the-box stories and concept based movies so that Telugu movie stories can be marketed in other languages'
Viren Thambidorai, Creative Director, Josh Media and Entertainment said "We encourage young filmmakers to draw inspiration from the success of 'Maaya' and come forward with stories and content that can truly entertain global audiences. Our long-term vision is to identify, produce, direct and market exciting new content from South India on a global platform. We will be announcing a slate of exciting new projects very soon."
ABOUT NEELAKANTA
Neelakanta, a national award winning screenwriter and director from South India is counted among the few directors in the Telugu film industry who comes up with something strikingly unusual every time he makes a film. Neelakanta recently directed the Telugu feature film 'Maaya', a psychological thriller based on Extra Sensory Perception (ESP). Produced by Madhura Sreedhar the film was a huge critical and commercial success this year.
In 2002, his Telugu feature film 'Show' was highly acclaimed, mainly for its screenplay and won two national awards. 'Show' won the National Film Award for Best Feature Film in Telugu and the Neelakanta won the National Film Award for Best Screenplay. Neelakanta directed 'Missamma' in 2003, which won him 4 state Nandi Awards. He also wrote the dialogues for Kamal Hassan's 'Eenadu', the Telugu remake of the popular Hindi film 'A Wednesday'. Neelakanta directed 'Virodhi' in 2011 and bagged the best dialogues and best film Golden Nandi awards. 'Virodhi' was screened at the Indian Panorama Film Festival as well.
ABOUT SHIRDI SAI COMBINES
Shirdi Sai Combines, a production company established by Madhura Sreedhar Reddy and Dr.MVK Reddy. Madhura Sreedhar a software engineer turned leading South Indian film Director and Producer. As Director 'Sneha Geetham' brought Sreedhar critical acclaim, and his subsequent films 'It'sMyLove Story' and 'Back Bench Student' delivered commercial success for the company. Sreedhar recently produced 'Maaya', an emotional and psychological thriller with ESP as the backdrop, directed by the National Award winning Neelakantha.
Madhura Sreedhar uses collaborative film making techniques that minimize risk and optimize profits for all his investors. His innovative filmmaking and advertising techniques ensure that all his films deliver highest quality at optimized budgets. An engineering graduate from the National Institute of Technology, REC, and a gold medal from IIT Madras, Sreedhar worked with the software giants TCS, Wipro and Infosys for over 10 years. His foray in the entertainment industry began with the success of his music company 'Madhura Audio' and 'Cinestar' a leading Telugu film magazine. 'Madhura Audio' is the second largest audio company for Telugu film music with over 700 films in its catalogue. Sreedhar has always introduced promising new talent and technicians in all his films. His assistants are directing two of his current films 'Ladies&Gentlemen' and 'Om Mangalam Mangalam'. Known for choosing out-of-the-box subjects, Madhura Sreedhar has successfully carved a niche for his films amongst the urban and Gen-Y Telugu filmgoers. 'DanaKarna' and 'Cricket' are his next directorial ventures.
ABOUT JOSH MEDIA AND ENTERTAINMENT
Josh Media & Entertainment are creative enablers that stimulate artistic innovation, accelerate inventive aspirations, develop talent and content management prospects, and produce win-win strategies for infotainment and entertainment enterprises across media. 'Excellence' is team JoshMe's success mantra. With a creative career spanning 20 years in digital entertainment technologies, as producer, ad-filmmaker, cinematographer and Vfx supervisor, JoshMe's creative director Viren Thambidorai has designed and executed some amazing M&E projects.
As creative producer for Suresh Productions, one of the biggest film production companies in the South, Viren manages key strategic business opportunities of large budget films. Some of the popular films we have has been associated with are Gopala Gopala, Drishyam, Eega, Namo Venkatesa, Nagavalli, Dum Maaro Dum, Leader, etc. As executive producer, 'Geon Studios', Viren built technical infrastructure and quality delivery systems in visual effects and animation. As executive producer, 'Spirit Media', he established South India's most successful digital post pipeline. As video-game producer, 'Fxlabs', Viren created video games based on popular filmed content. As ad-filmmaker, his 'BPL' Tvc's won the Cannes Lion, as executive producer, 'A Belly Full of Dreams' won the IFFLA & the Indian National award. As cinematographer, the PBS series 'New Americans' was nominated for the EMMYies. As producer, 'Pattudala' won the Golden Nandi, AP State award.