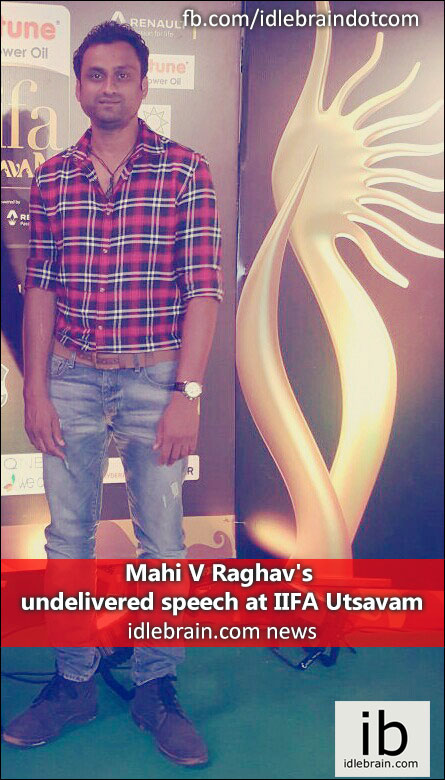 27 January 2016
Hyderabad
To be honest i was more than surprised at the nomination of
Paathshala for the Best film along with Bahubali and Srimanthudu
And for the Best director category along with directors S.S Rajamouli and koratala Siva.
The big dilemma was not to about winning or loosing or what to wear ?
To have a Speech ready or not ...
So we are among the top 5 contenders, then odds don't really matter... It isn't over till it is...
It would be a bigger sin if we go on to win and not have a speech than have one which might not of use at all
So good i had my speech ready.....
Thank you IIFA for the award
I would like to thank my producers Rakesh Mahankali & Pavan Kumar Reddy without them the movie would have been just a screenplay....a 125 page bound book.
Would like to thank Rahul Raj, Sudheer and Shravan without them the movie for sure wouldn't have been what it is....
And thank you hyndavi suda for your unconditional support and trust. Would have been a hell lot harder without you..
Finally my direction team Vijay, Ravi, Anish, Jeevan and Dileep who worked their heart out.
Would like to dedicate this award to the spirit of independent cinema ....
This is for all those independent filmmakers and producers, for the directors who have dared to tell the stories which weren't told before and for choosing to tell stories they believed in.
To those Producers who trusted in new talent and their stories who risked and lost their hard earned money.. and this to all the technicians and assistant directors and their love for cinema who work the most and hardly get paid. Sorry we couldn't pay, it isn't our dishonesty its just that we are too broke...
Thank you..
END of Speech.
As always "Prepare for glory" whispered my heart when the winners were announced ... BAAHUBALI & S.S RAJAMOULI won it ......(without a doubt they truly deserved it)
What a glory it was to having the honor of having competing with movies like Baahubali (S.S. Rajamouli) & Srimanthudu (koratala Siva)
Yeah we didn't win ..........
A moment later i asked myself
didn't we really win?/
A moment later
"We did" whispered my heart ...