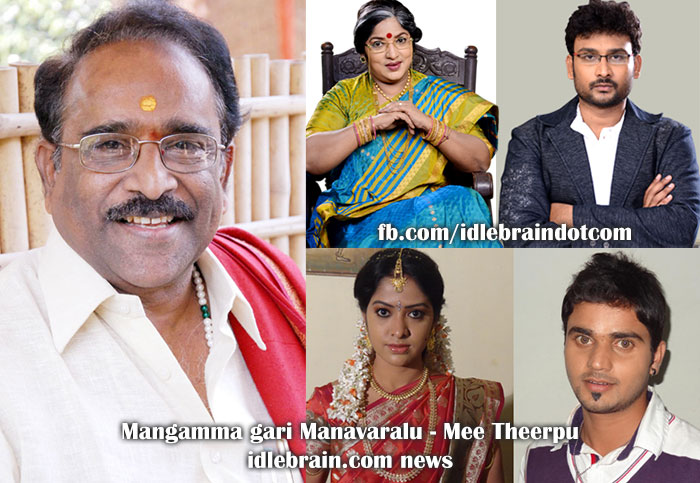 31 January 2014
Hyderabad
'Mee Theerpu'
Zee Telugu stood with the audience and gives importance to their opinion while developing the twists and turns in its shows.
" Mangamma Gari Manavaralu " which has got huge fan following among the female audience is on the edge of a crucial turning point which will form the base for rest of the story. Considering the importance of the twist in this mega fiction show, Zee Telugu decided to take the feedback and opinion from the audience as well, to make it more connected to each and every viewer
"Mangamma Gari Manavaralu" is the story of " Seetha " who has got her own individuality and self respect though she belongs to a middle class. Mangamma on the other side is a very rich old lady with very superior and strict rules for the sake of her family.
Now the story is at a point where seetha has to take a decision whether she needs to obey the conditions put forward by Mangamma in order to marry her grandson or whether she should protect her individuality, self respect and continue her journey.
The event titiled " Mee Teerpu " will be hosted by the famous writer " Paruchuri Gopalakrishna " wherein all the viewers are invited to share their opinion. The event will be organize this Sunday at 5pm on  Feb 2nd  in RTC Kalabhawan, near Bhaglingampally road.
About Zee Telugu
Sarikotha Velugu… Zee Telugu!
As the caption suggests 'Sarikotta Velugu', a Telugu phrase that conveys the meaning 'New Light'. Zee Telugu has always stood by it. Zee Telugu, the channel created with a vision to provide wholesome entertainment to the entire family, has become a very popular channel amongst all age groups today. The programs range from devotional, music, dance, comedy, to blockbuster movies and reality shows.
Zee Telugu is the first southern regional channel from Zee bouquet. In just few years of its inception it soared high on popularity charts by breaking the barriers of a stereo typical Fiction Television. It gave a new path with its creative ideas, constant innovation and a feel for popular taste thereby bringing radical changes in viewership patterns. Being a strong contender for No.2 in Telugu GEC, Zee is striving to consolidate its position. There are over 15 million patrons to Zee Telugu across the globe.