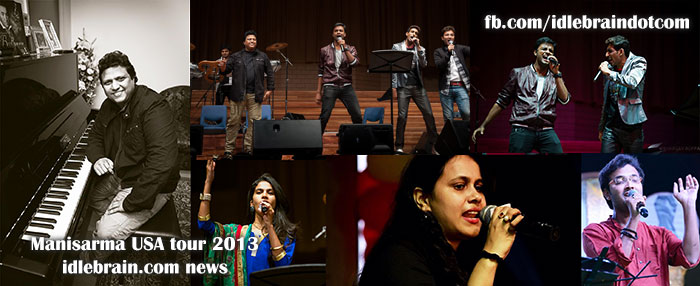 Manisarma is touring USA for the 6th time. He is the only musician who has successfully delivered shows in US, UK, Australia, Middle East. His peppy songs and background score attracts music lovers and creates an euphoria. His songs and background scores from Samarasimha Reddy, Narasimha Naidu, Indra, Tagore, Lakshmi Narasimha, Laxmi, SVSC,Aadi, Pokiri, Athadu, Ashok, and others are still memorable to cherish. Manisarma's personality blends very well with his audience, during the shows that builds to an ecstasy.
Manisarma performed 50 stage shows in US and 100 shows worldwide is a big achievement. These trips gives him the pulse of his audience outside the recording studio to deliver good music. On a personal note, Actor Balakrishna garu was excited that Manisarma garu is performing for TAGDV 40th anniversary. It will be a treat to fans of Nandamuri Balakrishna. Event hosting cities and organizers are excited to receive Manisarma and his troupe.

The following 8 shows are confirmed-Philadelphia, Columbus, Orlando, Jacksonville, Dallas, Houston, Washington DC and Richmond. The troupe are also interested in performing during weekdays to accommodate the overwhelming requests for the shows. Organizers are confirming more shows to cater the popularity of Manisarma garu and his troupe.
Contact Ravi Potluri-2672522496, Venkata Narpala-9725237908, Jagadish Prabhala-6147836614, and Mahati Studio-RaviShankar Vadhri -011 91-93930 27262
Manisarma Profile
ManiSarma started his career in 1982 as Keyboard Player. He travelled with SP Balu garu as a keyboard player for several years. He worked with more than 50 music directors in Hindi, Telugu, Tamil, Malayalam, Oriya and Bengali. He worked for music directors from Pendyala, S.Rajeswara Rao, Satyam, Illayaraja, Raj-Koti and Keeravani. He started Mahati Studio in 1985, a State of Art Sound Engineering studio in South India. Since then scored more than 130 feature films. The songs he scored are like a musical craftsman to the many leading starts to date are apt, vibrant and modulated to the body languages of many stars like Mega Star Chiranjeevi, Balakrishna, Mahesh Babu, Pawan Kalyan, Jr. NTR, Nagarjuna, Venkatesh, Gopichand, Prabhas and many more. The songs were chart busters and celebrated silver jubilee at box office.

His contribution to the Indian cinema with his own touch of magic in melody and qualitative excellence made him earn titles from critics like 'Music Magician" and
" Melody Brahma". His list of awards are as follows:
Best Music Director Filmfare award-Okkadu
Best Music Director Nandi Award-1998, 1999, 2004.(Choodalaniundi, Ganesh, Okkadu, Indra, Tagore, Banam etc..)
Vamsee Berkley awards for Choodalaniundi
Swarnandhra Award for RadhaGopalam,
SICA award for Indra
Critic award-Bantam ,Rachaa, Chirutha and many more...

After almost 20 years of unparallel effort and expertise in contribution for authoritative music nurtured in enthralling the listeners of music, makes him an example of hardworking and uncompromising personality.

Hemachandra
Hemachandra is a very popular playback singer, music director, Dubbing artist and TV anchor from Hyderabad, Andhra Pradesh, India. Hemachandra, known as the HOT, HANDSOME and HAPPENING HYDERABADI', became internationally popular through Zee TV's Music competition 'SaReGaMaPa' Challenge 2005'. Though he finished as the second runner-up, he was widely acknowledged as the best singer with the most original voice by several stalwarts of Bollywood such as Subhash Ghai, Aadesh Shrivastava, Ismail Darbar, among others. He has hits from Teenmaar, Shakthi, Golconda High School, Param Veera Chakra, Vastadu Naa Raju, Ala modalaindhi, Broker, Mahesh Khaleja, Don seenu, Badmaash, Em Pillo Em Pillado, Katti Kantha Rao, Kanchana, Urumi, Nanban. His awards and movies include: He has sung many latest chart busters for the famous music director 'Mani Sarma' in the movies 'varudu', 'Kantri', 'Billa', 'Mitrudu", 'ontari', 'Pourudu', 'Lakshyam and 'Room Mates'. Best debut music director- Movie Ride, Best Male Playback Singer-BIGFM award, Best New talent Award 2006. He sang in hindi films-DIl Diya hai, Mummyji, Ganesh, Flag.

Karunya
The entire Telugu film industry supported Karunya for Indian Idol competition. He recorded his first telugu song for his dream composer Manisarma for the film "Ashok" starring one of the most powerful young telugu stars Jr.NTR. The song was very well received and Karunya was offered many more songs in Telugu. He sang huge hits like "Orugalluke pilla" from the film Sainikudu,"Enduko" from Chirutha, the latest chartbuster "Ammayi kitiki pakkana" from "Maryada Ramanna" and recorded for about 40-45 films till date. Karunya is the youngest singer to be a part of the most prestigious remake of the near anthem like song "Mile sur mera tumhaara" that used to be aired on Doordarshan way back in 1988.It has been remade in the year 2010 and released as "Phir mile sur" on the republic day on Zoom tv and this time it features many eminent personalities from all walks of life. His awards include-Nandi, Bharathamuni, Vamsi-Berkeley, Santosham, Nominee-Filmfare awards. He is honored as Young rising star of India

Srikrishna
Climbing up the ladder of success with an ever-mindful attitude, Srikrishna soon had many songs to his credit, and several other notable achievements too. He was invited as a Guest Singer to the Thallapaka Annamacharya Jayanthi Utsavalu conducted by the TTD in May, 2008. He performed with popular singers such as Sree S.P. Balasubrahmanyam, Sree Mano, Smt. K.S. Chitra, Smt. Sunitha, Smt. S.P. Sailaja, M.M. Srilekha, Malathi, Karthik, Ranjith, Suchitra, Geetha Madhuri, and so on. He even performed multiple times with Sree S.P. Balasubrahmanyam in the United States of America, Dubai, and Singapore, winning appreciation from wide audiences as both a singer and an anchor in all such occasions. Srikrishna is also popular as one of the mentors for MaaTV's series Idea Super Singers 3. In Telugu, Srikrishna sang in numerous films including Gopi, Classmates, ashTaa chemmaa, aalayam, Target, viyyaala vaari kayyaalu, Laila-Majnu, maa aayana chanTi pillaaDu, Blade Babji, Brahmi gaaDi katha, virOdhi, mugguru,

Sravana Bhargavi
She made a silent debut in "BONI" (the movie) with the song – "Kadhantaana", had seen her behind that sound-proof studios and into the movie industry rendering quite a few numbers for as many as 10 movies including my favorites – Kalaavar King, Seeta Ramulu Kalyanam, Andhari Bhanduvaya, the very recent Teenmaar etc. She got an instant recognition for Movie – SIMHA, where the title song was a runaway success, which had kept her on a pedestal for a long time. She has hosted shows like ZEE Saregamapa, Jhummandi Naadham, Kuhu-Kuhu and a few other MUSIC- shows. Married to Hemachandra has given her own popularity a boost. She sang in SIMHA, KHALEJA, TEENMAAR, BADRINATH, RAJANNA.

Pranavi
Highly talented singer and dubbling artist. Pranavi has been performing in India, US, Dubai and other cities and has acclaimed reputation in Tollywood industry, She sang in SriRamadasu, Amma Cheppindi, Chandrahas, Yamadonga, Sangamam, Laxmi kalyanam, Deepavali, Happy Days, Pandurangadu, Keka, Mayagadu and many tracks in Manisharma garu's team. She gave performances with G Anand garu at US events and also performed at TANA, ATA events.Few awards to her portfolio-Bharathamuni award, Ghantasala state award, Sreemitra award, Garuda award and many more.

Sai Shilpa
She is a well know Singer in Tollywood and Kollywood industry. She was MAATV "SUPERSINGER 5" WINNER and completed many Playback singing in the movies GOPI ,BURIDI, BLADE BABJI and MAHANAGARAMLO under the music direction of Sri.KOTI. She performed shows in DUBAI,SINGAPORE,MALAYSIA with Koti garu & M.M.Srilekhagaru. She received GANA GANDHARVA award and won three GOLD MEDALS in state level youth festival

Sudha Mayi
Sudhamayi is the upcoming singer and dubbing artist in Telugu music industry. With her latest hit in Ram Charan Teja's Magadheera, she got into much popularity. She is currently in US in Software related career but still has her love for music and tollywood industry. Her passion and music interest has won hearts of Manisarma's troupe.
Press Release
Mahati Studio and US Organizers.