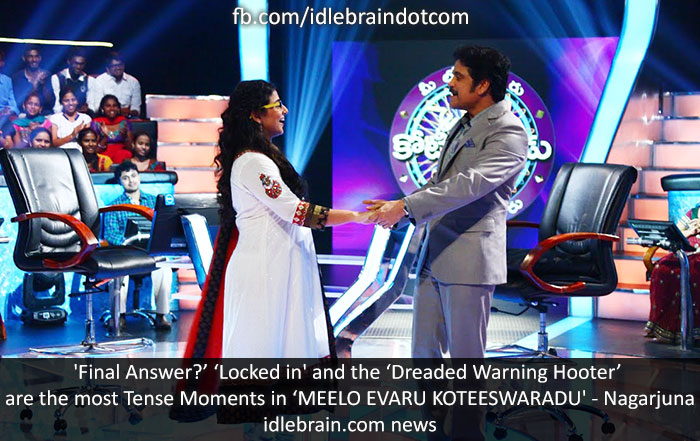 28 June 2014
Hyderabad
Contestants in the Nagarjuna's hugely popular Game Show 'Meelo Evaru Koteeswarudu'(MEK) however have a ecstatic view "We didn't have anything on our screen before the final answer. We often thought – We are quite bright!" Sometimes we win sometimes we lose yet the thrill to be part of this show anchored by celebrity Nagarjuna is beyond words.
"I may have given them some anxious moments and made them sweat but I love being their best friend and steer them to winning as much money as possible."Nagarjuna Akkineni said. I am overjoyed that more number of homes is switching on their television to watch MEK.
Ratings touch new highs – 10.7
The TV ratings (TVR) of the MEK have grown in tremendous proportion. During its very first season, MEK clocked an average TVR of 9.07 and the second one of 10.7 — a feat not repeated on regional Indian television.
Considering that a show with TRP of 5 is considered a hit today, due to the increase in the number of channels, there is still lot of steam in the show, say GEC industry observer.
Audience and millions of Television viewers in the homes are on the edge of their seat that add to the excitement of this game.
Easing the tension of the participants is one of the biggest challenges I find as an anchor in Meelo Evaru Koteeswarudu (MEK).
The format to "Who Wants to Be a Millionaire?" Devised in the UK - has been exported to around 100 countries worldwide, including India, Afghanistan, China and Uruguay.