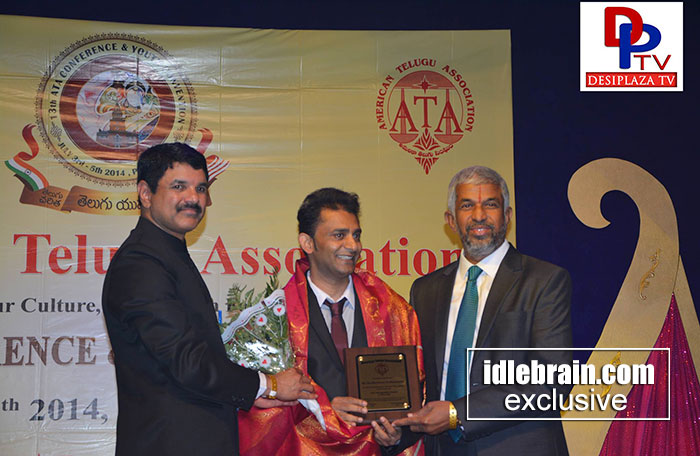 8 July 2014
Hyderabad
Director Mr. AyodhyaKumar Krishnamsetty received the ATA distinguished recognition award in the area of Fine Arts for Minugurulu film towards his contributions and accomplishments in new age film-making. AyodhyaKumar received the award at the 13th ATA Conference on July 3rd, 2014 in the Philadelphia Convention Center in Philadelphia, USA. He wasf elicitated by ATA President Karunakar Rao Madhavaram, Rameshwar Rao Jupally 
Chairman, Myhome and other ATA Committee members at the Conference which was held from 3rd to 5th July 2014.
Minugurulu, A movie in which 40 blind kids acted for the first time in the Telugu film industry, is directed and produced by Ayodhyakumar Krishnamsetty a software engineer from Portland, Oregon who left the software industry to pursue Film career and embrace his love and passion for films. The movie is also officially selected in many National and International film festivals. It was awarded the "Best Indian Film" award in 9th Children's India International film Festival 2014, conducted at Bangalore. The film is also selected for 18th International Children Film Festival, Hyderabad. This festival has taken place from November 14th to 20th in Hyderabad and Minugurulu bags the credit of being the only Telugu film to be selected in the competition section for the first time.
The motto behind the making of this film is to create a congenial atmosphere for a better understanding of the general people about the visually impaired. The director made his presence felt across the nation with the film Minugurulu.
Minugurulu has celebrated its success run in the US on 28th June 2014 where famous lyricist Sirivennela Garu was also present. Over 100 people gathered in Dallas for this success meet.
The director also conducted a workshop on the making of Minugurulu film on July 4th 2014 at ATA Conference 2014. ATA Film & Photography committee have expressed their immense pleasure in having AyodhyaKumar for this guest event.