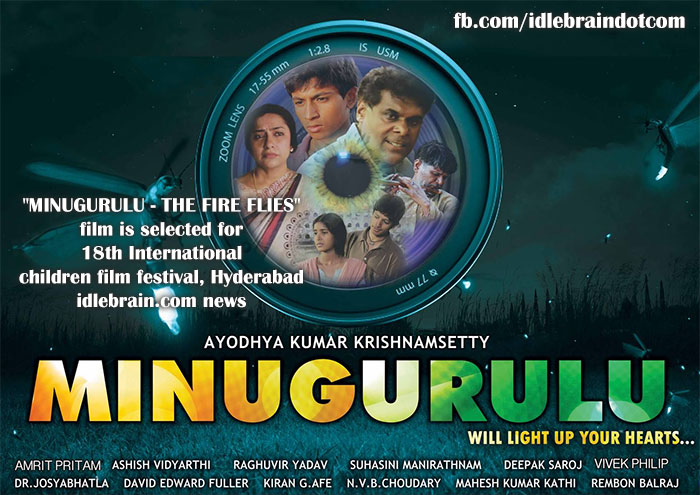 17 November 2013
Hyderabad
"MINUGURULU - THE FIRE FLIES", film is selected for 18th International children film festival, Hyderabad. The only telugu film which got selected in the festival as well in competition section. Minugurulu is competing for "THE GLODEN ELEPHANT" in Competition International Live action section. This festival will take place from November 14th to 20th in Hyderabad.
'Minugurulu' (Fireflies); the title of the Telugu movie Produced and Directed by Ayodhyakumar Krishnamsetty, narrating the story of a group of visually challenged kids. The highlight of the film lies in the fact that there are actually 40 visually impaired children performing in the film (First time in the history of Indian Cinema).
The star-cast also comprise prominent actors including Ashish Vidyarthi, Raghuveer Yadav and Suhasini Maniratnam and is supported by an international crew and technicians.
Minugurulu is also officially selected at International Ability Film Festival, Chennai 2013 and six other international film festivals.
Till date wherever and whoever the film is screened so far, every one from casual audience to knowledgable film fraternity appreciated this movie. So, Director Ayodhyakumar is really confident that this movie will be appreciated if it is released and reached to general audience.
Since it is selected in International Children's Film Festival India 2013 (which is going to be on nov 14th), he believes this would be a perfect timing to release.