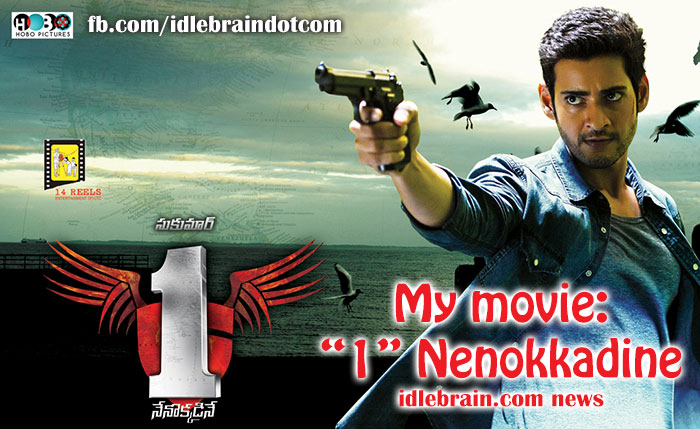 21 January 2014
Hyderabad
Thanks to steep ticket price in the U.S, I couldn't watch this movie last weekend. Not sure why Telugu movie makers and distributors keep raising ticket price when Hindi movies are able to screen mega-budget movies for $8 ticket price. Few years back I used to screen Telugu movies in Houston, we thought charging $10 ticket price was a bit excessive for families. Now ticket price shot upto $20-$25, this is not sustainable. In my opinion, it actually discourages families going to theater than wait for DVD or Satellite even worse watches on-line! Producers and distributors expecting as much revenue share from the overseas market as they get in Nizam area which is crazy! Telugu movie goers in the U.S have increased multifold in the past decade - this means ticket price should actually go down considering near ZERO inflation in the U.S as per government CPI data.
My wife and I watched "1" Nenokkadine yesterday, we both liked the movie. I particularly loved the first half, second half could have been less confusing. If love Telugu movies you must love Mahesh Babu. No doubt, it is perhaps the best of Mahesh Babu's action. EROS should remake the same with the same cast and release in Hollywood, they should get someone like Night Shyamalan to make the Hollywood version. There is no hype in saying Mahesh can give run for their money to Matt Damon, Keanu Reeves and Bradley Cooper if they can remake the same movie with slight modifications for Hollywood.
I thought DSP didn't have his best work for this movie, especially audio. He did better job with the background music but it could have been better. Sukumar did a great job with the first half of the movie. Like most Sukumar's movies, he loses grip in the second half, he may have one too many twists and a bit of drag! Although Arya2 was not a success at the box office, I thought it was a fantastic movie just needed a bit of crisp editing. Likewise, "1" Nenokkadine is a great movie if it was release without any hype and expectations. Sukumar should have stayed with Nassar as good guy and kept Pradeep Rawat and Kelly Dorji are baddies. By switching villain in the second half, it added unnecessary confusion and the drag. Otherwise, Sukumar did a great job with screenplay and direction. Although he says his movies are not inspired by Hollywood flicks, the ending scene is very much a true copy from "Blood Diamond" movie ending!
This movie unnecessary got lumped into some sort of psychological thriller or Hallucination genre, although movie starts off that way, director made it clear that hero is trying to search for his past and he truly had the past. There is no question of neurological or psychological disorder though people around him believed he is simply hallucinated. We must appreciate Mahesh Babu for gaining adequate fitness level for the movie, he was flawless as an actor for the role. Kriti Sanon is a truly charming, my wife thought she looks like Cindy Crawford's sister. Kriti looks amazing, acted very well and perfect fit for the role. Tollywood may have found another great potential actress in Kriti, hope we won't lose her to Bollywood.
I also watched another Sankranti release, Yevadu. I thought it was also a decent movie, I liked the second half of Yevadu. I didn't care for routine masala in the first half. Predictably Yevadu is successful at the box office, from my perspective, entire credit for Yevadu success should go to Vamsi Paidipally for taking such a routine story and make something out of it. Vamsi screenplay and direction should be credited for Yevadu success.
"1" Nenokkadine is such a good movie - it is a shame if makers and distributors are not profitable with this venture. I would like to offer a free management consultant advice to the makers and promoters. Ideally this movie should have been released without audio function and pre-release hype as this genre require word-of-mouth campaign rather than hype thru typical audio function, teasers/trailers and lead cast assurance. If this movie was released with low expectations as it happened with Dhoom 3 with multiple lackluster reviews, it would have been a runaway hit at the box office. I am reading a book called "Tipping Point" by Malcolm Gladwell, this book talks about "social epidemics" and how little things can make a big difference. As Gladwell wrote in Tipping Point, if this movie was released without any hype and used cleaver campaign thru social media and TV promotions after the release, they would have started another social epidemic in Telugu film industry. I bet our audience care more than just cheap comedy. After all, dubbed movie such as "2012" was a runaway hit in A.P. Don't blame online reviews, Dhoom 3 got such lame reviews yet it collected over 500 Crores at the box office. I watched Dhoom 3 and I think it is more like Dhoom 1.5 yet audience just watched for Aamir Khan and action sequences. Likewise, Telugu movie audience would enjoy "1" Nenokkadine once they have right expectations. Only Mahesh can save this movie at the box office, considering there are no major releases over next 3-4 weeks, I suggest the following campaign:
Mahesh should ask people to watch this movie and give him their feedback thru facebook, twitter, SMS, e-mail. Mahesh should interview random (not pre-screened) audience across the state and find out what they liked or not liked about the movie. If you can bring audience to the theater they would really enjoy this movie. This is a kind of movie you should only watch it on the big screen. There is no doubt most people have not even watched this movie because they heard about bad reviews or lack of entertaining. In my opinion, this is a truly entertainer. Entertainment does not mean just cheap comedy - it can also be inspiring as well as cause heartfelt joy! "1" Nenokkadine is like for having well-proportionately marinated Lobster at Indian restaurant.
Go watch "1" Nenokkadine, I am sure you will gain respect for creativity, visualization, action, glamour and entertainment quotient of Telugu films!!!
- Srini Chittaluru