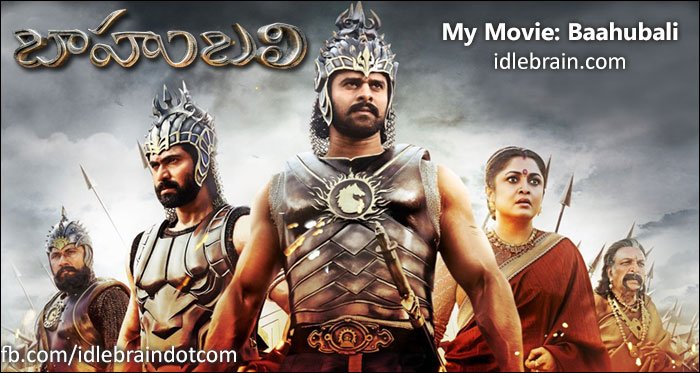 14 July 2015
Hyderabad
Like millions of Indian cinemagoers, I watched Baahubali this weekend and absolutely enjoyed every minute of it. Nearly twenty of us watched the movie, ages ranging from 10 to 50 years. I thought of sharing my perspective on why that there is such discrepancy between critics' ratings on Baahubali vs. viewer ratings. IMDB rating on Baahubali is 9.4/10 whereas most movie critics (regional and national media) gave ratings ranging from 3 to 3.5 on 5. One thing consistent with critics, Baahubali, The beginning part ended abruptly. In many ways, by reading reviews, most viewers started setting up their expectations on abrupt ending when they watch this fantastic movie. By having lower expectations on the ending, most viewers seem to think ending is not as bad as reviews portrayed.
If you are a seafood lover, Lobster is considered as one of the ultimate delicacy. Baahubali is like enjoying Lobster with Tandoori spices at fine Indian restaurants in India. Yes Baahubali may have traces of influence from many Hollywood flicks like Troy, 300, Gladiator, Lord of Rings etc. but Rajmouli artfully spiced up to meet Indian moviegoer's taste. When I left Movie Theater, only thing I thought about was when the next part will be released! I can't wait to watch Baahubali again on IMAX when I visit India in a couple of months.
I personally thought Satyaraj was the best in his role as a loyal slave/solder. Prabhas gave his best performance along with Rana. In my opinion, this is very much like a Multi-star movie with Prabhas and Rana as two heroes of the movie. Despite having Anushka having limited de-glamorous role, as an actor, she has shown her best performance since Arundati. Not sure if Rajmouli had plans to dub this movie into Hindi when he stated this project. He should have considered Priyanka Chopra or Deepika for Avantika role. Thamanna was not convincing as a warrior, surprised meticulous Jakkana didn't ask Thamanna to tone-body to suit the role. Nassar and Ramyakrisha were adequate. Prabhakar truly elevated his presence as Kalakeya, true villain of Part I. Rajmouli cleverly came-up with new unknown language for demons lead by Kalakeya. As Rajmouli mentioned in his recent interview, yes the basic story is age-old plot and heavily influenced by Mahabharat, especially the cousins rivalry for the throne, bravery, rajneeti as well as deception!
I also felt intense impact of Gladiator when it comes to slavery/loyalty as well as insecure king, Bhalladeva (Rana) who is trying to wipe-up Mahismati kingdom's favorite ruler, Baahubali from people's hearts and minds. The scene Prabhas removes his mask while slaves trying to erect 100 feet statue of Bhalladeva very much reminded me of Russell Crowe's removing his mask to show his face in Coliseum and how the crowd chants "Maximus, Maximus…" There is no secret that Baahubali has influence of several Hollywood great warrior movies. Having said that, Rajmouli came out with his own vision and execution to put together such monumental project. You have to watch this incredible movie for the cast, locations, visuals, Mahismati Palace setting, War with Kalakeya and background music by Maestro Keeravani. Maestro Meeravani already announced retirement, he came up with inspiring background score for Baahubali. On the flip side, music itself is mediocre, no songs stood out, I also thought Keeravani may have sung one too many songs.
My ABCD son and his friends thought Baahubali has an average flick, consistent with movie critics. Although they appreciated the film they pretty much thought basic plot is age-old and it lacked originality. Perhaps this is the reason for movie critics rated Baahubali anywhere from 3 to 3.5. However, all adults in our group thought this was an incredible flick and truly appreciated the cast, grandeur, visuals, locations and everything about the movie. In my opinion, this is the reason Baahubali is receiving such high viewer ratings, breaking all Indian cinema previous records and stood one among Top 10 movies this weekend in the U.S. If they chop-off duets, Baahubali has potential to be released for the International audience. Bar is set very high for Baahubali Part 2, considering that the most of the story will occur in Part 2, I am sure Baahubali 2 will even be bigger and better than Part 1.
- Srini Chittaluru