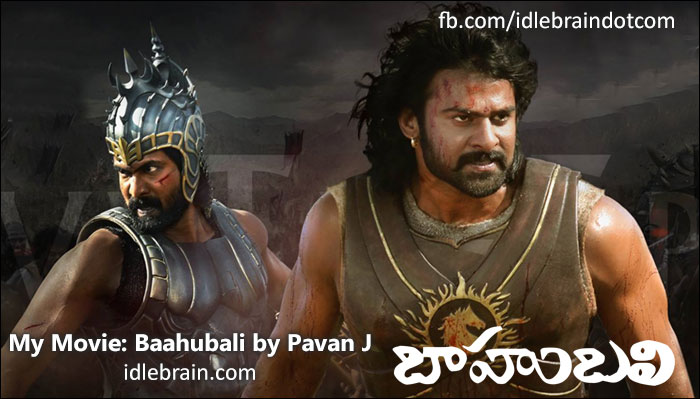 15 July 2015
Hyderabad
Bahubali - an experience
There are films and there are lot of them. However, there are very few which stands apart from the rest of pack and gives us an experience of lifetime. BAHUBALI, stands as tall as the statue that the makers try to erect on screen OR may be the I should say as big as the waterfalls !
Your heart will pound with joy when you are in the midst of an exotic location and you just want to share that experience with everyone. But, don't find enough superlatives to describe the feeling. To me, Bahubali is in this category. It's brilliance and visuals compels you to look at it like a monument.
But, I find myself asking this question - why is BAHUBALI gave me this visual kick when we see so much better visuals in 'Hollywood' films?
In movies, not all visual experiences are great. We see a lot of CGI/VFX Hollywood movies nowadays are getting more repetitive, and formulaic franchises where you know what you gonna see with few thrill elements, lot of VFX bombardment that ultimately leave you 'story thirsty'. The recent examples are many - the likes of Avengers, Fast & Furuious, Jurassic etc.,
Relatively, on a larger scale this is 'Hollywood' version of making 'commercial blockbusters'.
A Movie is an beautiful amalgamation of different art forms combined together with the main objective of enhancing the story and the vision of the director. I believe when this happens a movie in its best possible way, it stands apart. An example of Chris Nolan's Batman - a blockbuster considered the best in this genre of super hero films.
Bahubali to me, has this perfect blend of block buster story telling with heart in its right place supported with grand visuals that leaves you 'spell bound'. It's the great study of what happens magnum opus vision supported by top notch execution.
When Rajamouli gave an almost 'super-hero' like screen presence for 'Eega', it must be a piece of cake for him to elevate the characters in the film with actors who has such a strong screen presence. 'Ramya Krishna's presence commands your attention when ever she appears on screen.
This is for sure the 'first of its kind' of movie in the country that hopefully paves path for many to come. But are there any more Rajamouli's in the country?
I join the brigade who are already screaming for 'Bahubali-the conclusion'. The bar is higher, the question is 'can it get anything bigger than this'? Well, guess we can now confidently say with 'Rajamouli SIR' at the helm of the affairs - the bets should deservedly in favour of him.
As a normal viewer, just a small THANK YOU to RAJAMOULI SIR and the producers for daring to bring this experience on screen. We shall remember for a long time to come.

Pavan J
[email protected]