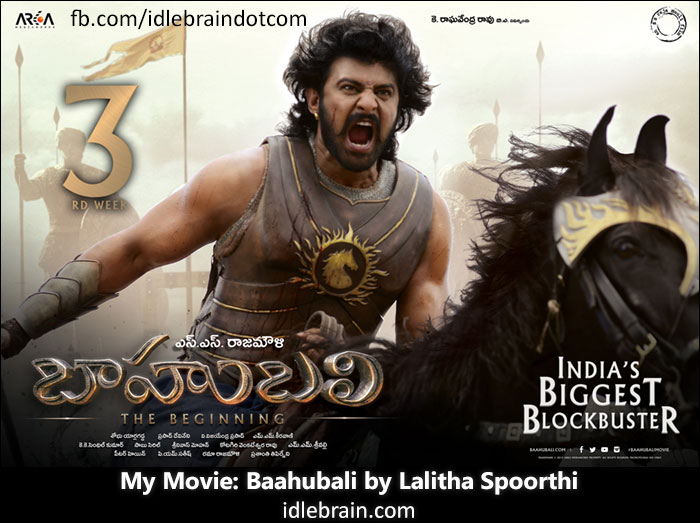 29 July 2015
Hyderabad
A review was long due and Bahubali had to be written about. Watching it in a multiplex in Mumbai amid whistles and screams was a surreal experience. Took me back to the single screen theatres in Hyderabad. That a movie can evoke such strong reactions among fans, critics and complete strangers is probably one rare thing for Telugu cinema.
It has drawn praise from all corners and comparisons with Hollywood movies like 300, Lord of the Rings and even the Game of Thrones series for its picturization and visuals. It's pretty evident that Rajamouli had all the necessary sources at his disposal and made optimum use of all of them. I was skeptical about Prabhas as the choice for such a major character- one that needs to spew powerful dialogues, but he has managed to pull it off.
But Rana completely dwarfs him. He looks the character of Bhallala Deva- menacing and vengeful. I actually had goose bumps during the bull fight introduction scene. Prabhakar as the Kalakeya lord is loathsome. So Rajamouli's aim there is well achieved.
I seem to be deviating. That was my situation during the movie. There were so many things to absorb in every scene. Every aspect is praiseworthy. The makeup is what has made the characters look how they do. The attention to detailing is superb especially in the waterfall scenes.
Tamannah was probably chosen for her beauty because after watching Ramya Krishna's veteran act I just didn't have eyes or ears for anyone else. The latter's dialogue delivery, ferocity and screen presence are brilliant. Anushka's role is quite limited. She could have more screen time in the second part and I hope Sudeep as Aslam Bhai does too.
The surprise package was Satyaraj as Kattappa. His character has a lot of scope to display his acting prowess and he does complete justice to it. His reaction in the scene where he realizes that the person is Mahendra Bahubali is beautiful.
I simply loved the second half- The war tactics, the weapons, Kilkili- the new language and the way the story ended, with a suspense that would ensure people throng the theatres for the conclusion.
But I wish Rajamouli had gone for a little less blood and gore through the movie. And though the song 'Pacha Bottesi' is good, it just distracts the viewers from the actual flow of the story. I'll just skip the sexist argument over the scene just before. The escape scene immediately after the song also seemed a little preposterous.
Overall, it is a great mix of technology, storytelling capability, acting skills and a good background score. A perfect example of the wonders that good team work spin out.
Lalitha Spoorthi