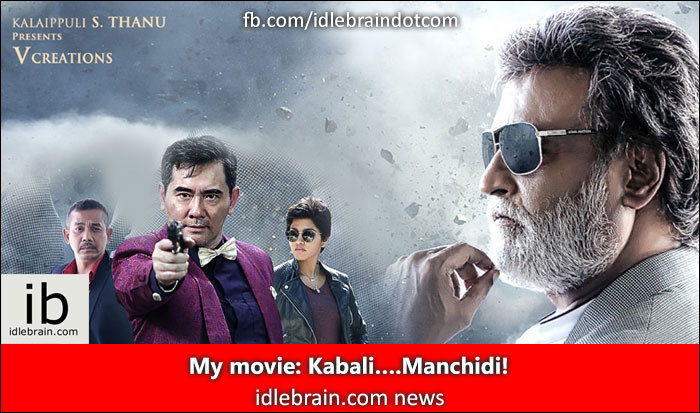 25 July 2016
Hyderabad
I watched the first premier show in Houston today, I am an ardent fan of Rajinikanth. In my view, there is no actor in the world like Rajini, he is a brand of his own. Kabali is a pure genre of mafia don movie yet no one can match Rajini Sir. Al Pacino would want to watch Kabali if he ever decides to make another version of GodFather or Scarface. Kabali is all about mob in Malaysia. There is softer side of the movie, Kabali's unyielding love for his wife, Radhika Apte. Oh my god, she was really good. South Indian Cinema has alternate to Nayantara, Radhika Apte perfected both young as well as matured role. I loved hard-rock style Nippu Ra song, Okadae Okadokkadae was OK, overall I would rate music is average, background score was good. Pa. Ranjith presented Rajini Sir in larger-than-life role with high quality production reflected entire movie of great locations, excellent background score and cinematography.
Kabali is not a family entertainer, there is no special romantic or comedy track. Since it is a weekday, I watched the movie alone. I am sure my wife would have thoroughly enjoyed Kabali. I appreciate Director Ranjith sticking to pure genre. I also enjoyed Sapranos style ending, it lets audience to imagine the ending. Ranjith could have taken better care with the script to narrate the plot slightly better, there is a bit of confusion with various ethnicity among the mob in Malaysia, timeline and mob hierarchy.
I also thought Director Ranjith should have used Love Aaj Kal style narration to use another younger actor rather than trying to show youthful Rajinikanth. Imtiaz Ali cleverly used Saif when Rishi Kapoor was flash-backing his ageless love story with Giselli Monteiro. He could have used a new comer to fill-in young Rajini role which lasts only about 20 minutes. Tried to over-makeup to show Rajini Sir as a youngman was a bit stretch.
Overall, I rate 4/5 for the 1st half and 3.5/5 for 2nd half of the movie. Regardless of reviews and ratings, this is a must watch movie on the big screen, Kabali deserves all the hype it received during the pre-release. Go ahead and set high expectations to watch Kabali, you will not be disappointed.
- Srini Chittaluru