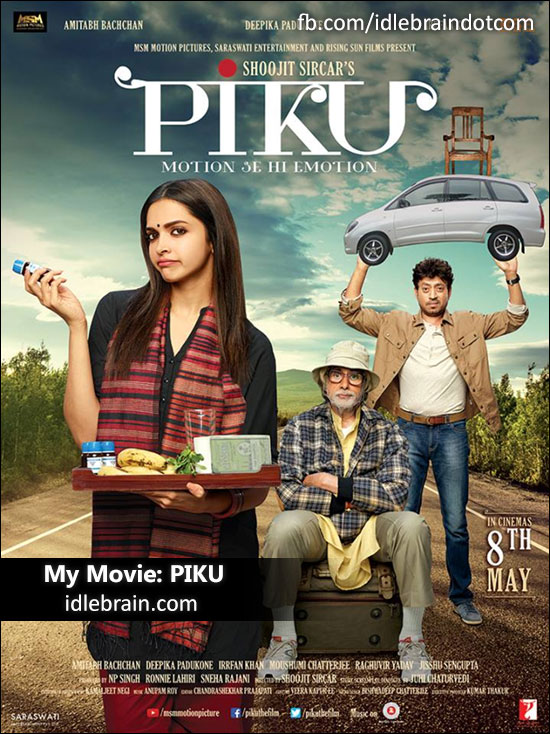 12 May 2015
Hyderabad
My wife and I watched Piku on this Sunday, Mother's Day! Truly a fantastic movie, of course I do think it would have been a great movie to watch on Father's Day. I commend director Shoojit Sircar for crafting such difficult script into a joyful movie to watch. By now, everyone might have heard about Piku's main plot – a movie about constipation!
I saw mockery on couple of social networks about pooping, slow-motion, lose motion, vomiting etc. Despite those ridicules, I say everyone should watch if they have a father or grandfather in late 60's or 70's. Big B simply excelled with his performance as a grumpy old man whose daily routine revolves around his bowl movement. There is absolutely nothing gross, every bit of the movie is hilarious and joyful. If you watched Indian-origin comedian, Russell Peters show, he usually has a routine on Indians obsession for daily bowl-movement. Irrfan had a line to say how westerners eat so much and manage to live with one bowl movement in 2-3 days. He also had another great line about losing identity if we give up on everything what we have.
Piku reminded me so much of Paa movie, Amitabh had excelled as a kid with rare genetic disease which caused him to have a body of 70 year old man in Paa. Well his role in Piku is about 70 year old man, he simply marveled. Deepika acted in title role, Piku. She has proved to be no less than Vidya Balan from Paa. Deepika acted as an independent career women who never gave up on her father regardless of how grumpy the old man is and how embarrassing conversations could be. Deepika is a versatile actress, she can fit into graceful roles of Aishwarya Rai, can do action bits like Priyanka Chopra and performance-oriented roles of Vidya Balan.
Although I've visited many places in India, never travelled towards the east, never been to Kolkata. After watching Piku, I am committed to visit Kolkata next time I visit India. One of my Bengali neighbor's name is Sanjoy, didn't understand why he spelled his name with "o" instead of "a". Amitabh's character's name is Bhaskor, must be a Bengali style of Bhaskar. Piku has many subtle details about Bengali culture, never forgetting their roots and never giving up on home.
Finally I say if you liked Paa, you will simply love Piku – a must watch!
- Srini Chittaluru