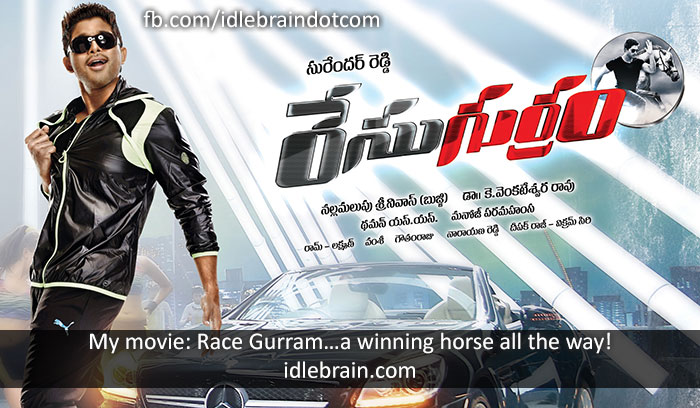 21 April 2014
Hyderabad
I watched RaceGurram movie this weekend with bunch of friends in Houston. All of us thoroughly enjoyed the movie, nice to see sub-titles to help our ABCD kids enjoy watching Telugu movies in theater. Surender Reddy strikes back with RaceGurram after debacle of Usaravelli primary due to wrong screenplay. Allu Arun also needed a blockbuster to stay in the top league of Tollywood. GoldenLeg Shruthi continued her success mantle at the box office. Thaman came out with one of his best music and background score. I pretty much liked all songs, my favorite one is "Boochadu Boochadu.." and I loved the presentation of "Cinima Chupista Mama Cinima Chupista mama…".
I loved the opening shot in which Bunny races with Stallions! Surender Reddy came out with near-perfect first-half then fizzed out in the second-half and ended last 30 minutes of the movie with hilarious performance of Bhramanandm as "Kill bill Pandey". I would rate first-half as 4.5/5 and second half at 3/5. For some reason, Surender Reddy continue to struggle to make second half of his movies consistent with the first-half. Ashok, Athidi, Usaravelli are good examples. He managed slightly better in Kick and RaceGurram so he has another blockbuster. He should really work on the script to make entire movie consistent to reach top league director in Tollywood like Rajamouli, Sreeni Vaitla and Trivikram. Shruthi's performance was really good as a person who practices controlling physical emotions - it reminded me of Aditya Rao's performance with her hallucinations in Athidi movie. Pretty much entire league of comedians shared screen in this movie so director couldn't control entry and exist of various characters including Prakash Raj and MS Narayana. Ali has very similar role like he had Kick movie, once again a doctor.
Bunny and Shaam sibling revelry reminds of Mani Ratnam's Gharshana movie. It has been a long time since we have a movie on sibling revelry. I really loved the way story jelled on how younger brother, Bunny had admiration for his brother yet there is constant revelry. Bunny may want to change his personal trainer, he looked disproportionately bulky. He should be careful, try to build lean muscle to complement his height. I didn't care for the villain, perhaps more suited for Tamil movies than Telugu audience.
Overall, RaceGurram is a wholesome entertainer with stylish presentation, awesome music and glamour quotient. RaceGurram is a must watch on the big screen!
- Srini Chittaluru