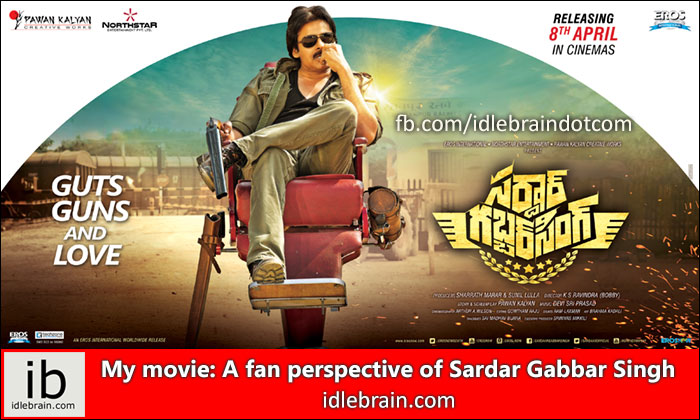 16 April 2016
Hyderabad
I watched Sardar Gabbar Singh last night, alone in a theater in Houston. It wasn't my personal home theater, very luxurious Cinimark. I was lone patron for the show, it was an interesting experience!
Before I go further, I am a fan of Pawan Kalyan. I like his boy-next door act, recollecting from my acting school, many upcoming directors used to prepare their scripts imagining Pawan Kalyan as the hero. Of course, most of them can only imagine! As part of our acting course, we watched makings of several movies, including Anand. Brilliant director, Shaker Kammula said in making of Anand, he wrote script imagining PowerStar. Only that aura can explain, Sardar Gabbar Singh raked nearly 50 Crores in the first week despite lackluster reviews and social network comedy! Sardar Gabbar Singh collected as much money as most recent hits of Tollywood top actors in their entire run. Megastar Chiru is right, a few things could have helped Sardar Gabbar Singh to shatter box office records, could have even allowed to get a glimpse of real PowerStar to Bollywood audience.
Story of Sardar Gabbar Singh is very simple: Save Ratanpur save princess! There is no confusion in the script, I actually argue it is extremely simple script with bland screenplay. I was watching pieces of Pawan Kalyan's interview on TV9, he rightly said he didn't write Christopher Nolan type of script which would not suit for Telugu movie audience. I also heard somewhere he mentioned that he has not watched Baahubali yet. Perhaps that explains, Pawan Kalyan may be a bit out of touch with Telugu movie audience crave for creativity and newness. Sardar Gabbar Singh is missing both of these elements, there are no twists or any brilliant track of comedy or any novelty in the movie. You watch Sardar Gabbar Singh because you want to watch Pawan Kalyan's movie!
Absolutely entertaining, never a boring moment but never a wow! factor either. Of course, crisp editing could have eliminated drag and maintained tempo of the movie, not sure if Rao Ramesh's character was needed at all. One suggestion to PowerStar, he needs to work on losing double-chin, age is catching upto you Sir. Only physical fitness and healthy diet can help maintain vitality and bring back glow to skin. PowerStar's story is not bad but he needed excellent screenplay and director, frankly Harish Shankar or V.V Vinayak could have taken the same story and presented much differently to elevate Pawan Kalyan to PowerStar. Bobby has his marks, since he wasn't involved in the screenplay, he didn't have enough tools to elevate the movie to the next level.
Karnudu chaavuki Laksha Kaaranalu annattu, even Devi Sri gave mediocre music unlike his previous combinations with Pawan Kalyan. Kajal didn't accentuate either, she too looked quite pale. Shruthi Hasan or Rakul could have brought much needed glamour quotient to the movie. Item Song with Lakshmi Raai was good, it wasn't timed well. In the second-half, when movie lost energy so it could have used an energetic item song to bring back the tempo. Sharad Kelkar did a great job as Bhairav Singh, Mukesh Rishi has similar character as Kattappa but PK might have gotten inspiration from reading about Timmarusu. Brammi continue to be not so funny, Ali was adequate! As I mentioned it's Pawan Kalyan all the way and he won't disappoint you if you go to a movie to enjoy a typical Telugu movie.
Instead of creating hype, promoters could have kept low key as well as set expectations upfront with audience and movie critics, there is no novelty in the movie other than all-out Pawan Kalyan's entertainment of a typical Telugu movie! Of course, first day collections couldn't have been as high as they were but movie could have sustained much longer and it wouldn't have received horrific reviews by film critics. In my opinion, expectations were unrealistic otherwise movie is a pretty decent entertainer. Background score, locations, western theme, maharaja palaces, camera work, art work, creation of Ratanpur, Lakshmi Raai, couple of songs and Pawan Kalyan make this movie an enjoyable flick for a typical Telugu movie goer.
Believe me, we are NOT going to have all Baahubali or Bhale bhale magadivoy or Attarintiki daredi or Oopiri type of amazing flicks! I won't say it is one of the top movies in recent times but it is a decent movie to watch on the big screen. If you watch Telugu movies at least once a month, you should watch Sardar Gabbar Singh in the theater!!!
- Srini Chittaluru