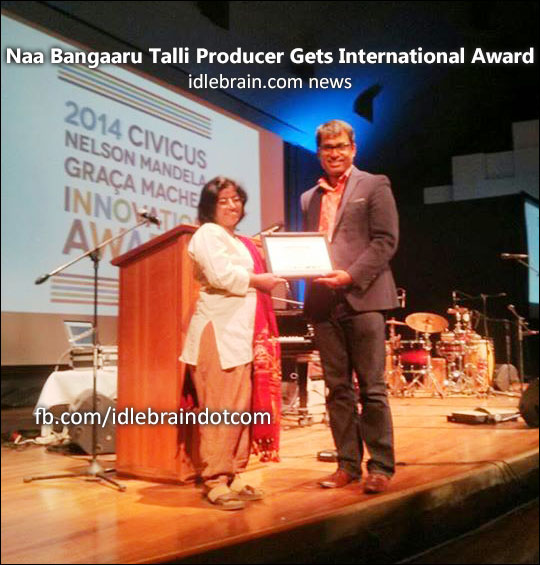 25 November 2014
Hyderabad
Dr. Sunita Krishnan, the producer of the Telugu film Naa Bangaaru Talli which is running successfully in theatres now, has been awarded the prestigious 2014 Nelson Mandela - Graça Machel Innovation Awards on 24th November, 2014 at Johannesberg, South Africa.
The awarding body World Alliance for Citizen Participation is a global civil society network spread across 145 countries, which works for civil society to protect and grow the civic space where people can express and organise themselves. No Asian has ever got the Nelson Mandela - Graça Machel Innovation Award yet – and Dr. Sunita Krishnan has been the first Indian to get it too. "What an honor to get an award in the holy land where Gandhiji and Nelson Mandela started their fight for liberty," posted this producer of Naa Bangaaru Talli on facebook from Johannesberg, after receiving the award.
Sunitha Krishnan is an Indian social activist and chief functionary and co-founder of Prajwala, oneo f the largest organisations in the world that rescues, rehabilitates and reintegrates sex-trafficked victims into society – and it is based out of Hyderabad. The much talked about film Naa Bangaaru Talli directed by her husband Rajesh Touchriver is based on the true story of a girl thus rescued from prostitution. This movie which has got 3 national awards and 5 international awards for telling that shocking story, has also been shot in the original locations of Rajahmundry and Hyderabad – staying true to what happened in reality.