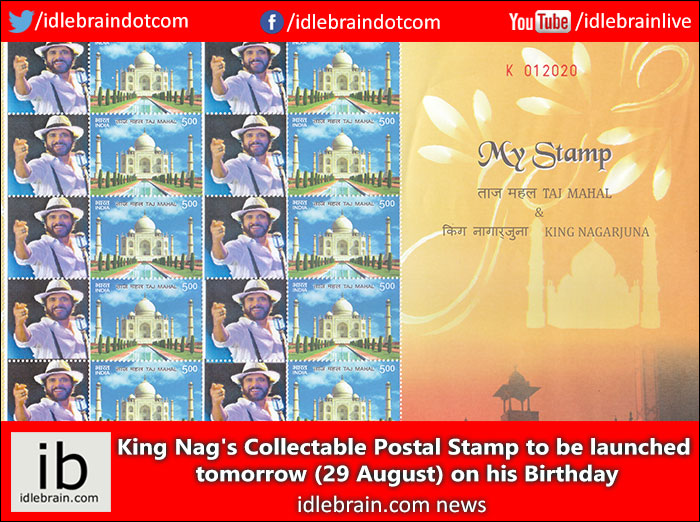 28 August 2016
Hyderabad
King Nag never seizes to surprise his fans, and the latest was showing his calibre as a perfect singer. To celebrate his debut as a singer, a beautiful emblematic postal stamps will be released on his birthday tomorrow by none other than his sons Naga Chaitanya and Akhil. The young sons will join thousands of enthusiastic King Nag's fans to cheer their idol on his birthday.
This stamp is an accolade to his versatility as an artist. The celebrated actor crooned 'Kotha Kotha Basha' song for Nirmala Convent that garnered tremendous appreciation from his fans and music enthusiasts.
"This is the biggest surprise in my life," King Nagarjuna stated. I thank my fans and the industry for acknowledging me as a singer and giving this moment to treasure forever.
The stamp art features a portrait of King Nagarjuna as a songster alongside the mystic Taj Mahal. This will be a fantastic fan moment Naga Chaitanya and Akhil said, as they get set to release the postal stamp on the eve of their dad's birthday on 29th August 12 Noon. "This stamp articulates the Telugu film industry music skills through the voice of versatile artist like Akkineni Nagarjuna and his admiration for fine lyrics and music composition". Chaitanya and Akhil added. The stamp release event will witness a huge gathering of King Nagarjuna's fans.
"This stamp is sure to appeal to everyone, both (Nagarjuna and Taj Mahal) are ageless symbols of love, with King Nag's birthday and festive season just around the corner, now is a perfect time to get started in stamp collecting. It's a hobby the entire family can enjoy." Nagarjuna Akkineni Fans Association President said.
It is a collectable classic that will be timeless for the entire family of Akkineni's and many of his fans will be looking forward to own this emblematic postal stamp. The public can purchase the stamps at the General Post Office Abids, Hyderabad. A total of 10,000 postal stamps were printed and will be released tomorrow.