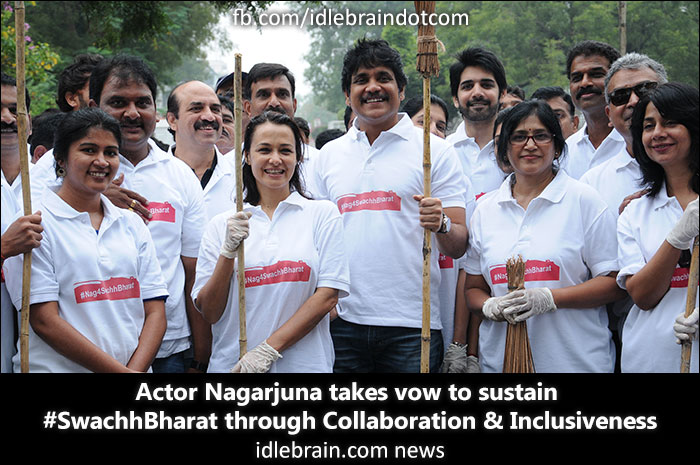 26 October 2014
Hyderabad
Actor Nagarjuna took to the street to carry out his commitment to strengthen the #Swachhbharat movement on Sunday morning near Annapurna Studios.
He also took the pledge to along with a large number of #swachhbharat ambassadors who participated in the campaign.​
The Actor said, "This is not an act of one time event, it is a translation of my pledge to keep neighbourhood clean, create many more ambassadors and collaborate with like minded people across the region to expand and sustain #SwachhBharat movement.
The super star advocated use of litter bins and take time to clean garbage on the streets to keep the surroundings hygienic.
The Actor also unveiled
​www.​nag4SwachhBharat​.org​, a website to spread awareness and engage public participation and support.
The website will also use the ever powerful social media platforms and leverage his million facebook and twitter followers to create micro level ambassadors and create #Swachhbharat events.
​About the Nominees
Major Shivkiran - an ex-army officer he established Sukuki Exnora provide sustainable solution in solid waste management.
Syed Mazher Hussain - established COVA. He has a network of 700 organisations in community empowerment and communal harmony in India. He also works with the UN.
Kirthiga Reddy - ​Head of Facebook India, she is passionate about causes for children and we all know what the impact the Facebook media creates.
Mujeeb Khan - President Bhoomi Foundation which work towards creating a nation of honsest and able leaders.
Sudeep - A leading actor from Kannada Film industry. He is also involved in many social initiatives with a huge fan following.
Pullela Gopichand - the badminton champion of India who had inspired and coached many champions of world badminton.
Allu Arjun - leading telugu and malayalam who works extensively for social cause.
& YOU - Every Citizen participation through our nag4swachhbharat.org