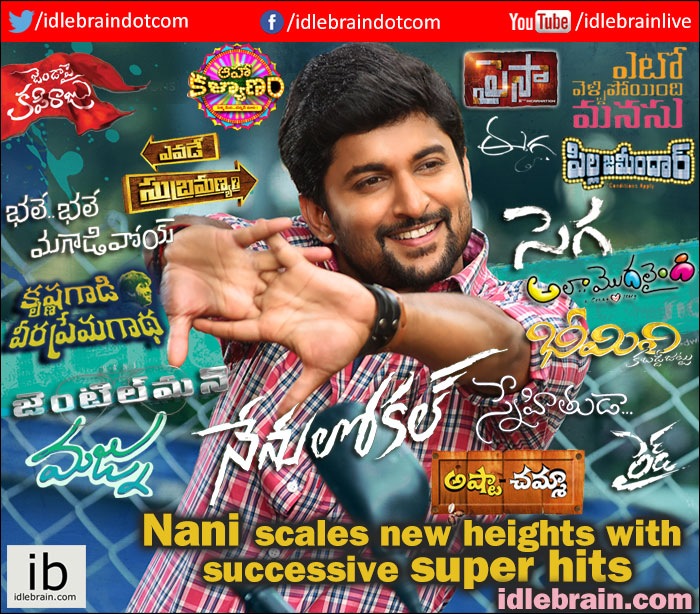 21 February 2017
Hyderabad
Nani who is heavily influenced by Maniratnam wanted to become a director. He has entered Telugu film industry in direction departmentment as his uncle K Anil Kumar used to produce films. He has worked with prominent directors like Bapu (Radha Gopalam), Sreenu Vytla (Dhee), K Raghavendra Rao (Allari Bullodu) and Suresh Krishna (Asthram). His friend Nandini Reddy who was working as RJ for World Space radio station has invited him to join as RJ which involves a day of work per week.
Mohana Krishna Indraganti who was looking for fresh faces saw an advertisement made by Nandini Reddy that sports Nani. He cast Nani as hero in Ashta Chemma - a whacky story inspired by Oscar Wilde's play. This film went on to become a runaway hit. His second film Ride was a commercial hit. It was the romedy Ala Modalaindi (debut film of Nandini Reddy as director) that brought Nani into limelight again. Pilla Zamindar which is inspired by a Korean film A Millionaire's First Love turned out to be another good film by Nani. Rajamouli's decision to cast him in the vital role in his classic Eega changed his life forever. This film is followed up by Gowtam Menen's love story Yeto Vellipoyindi Manasu.
Nani has dabbled with Tamil in the meantime and did a few films (Veppam & Aha Kalyanam) that didn't work at box office. 2013 is marked as a bad year for Nani as he didn't have any releases in that year. But, he made his debut as dubbing artist by dubbing for hero character in Manirathnam's Kadali. He has also got into production by presenting the film D for Dopidi.
2014 too turned out to be a sour one as Paisa and Aha Kalyanam tanked at box office. It's followed by a rare occasion where both of his films - Yevade Subramanyam and Jenda Pai Kapiraju releasing on the same day (21 March 2015). Yevade Subramanyam film is appreciated by classes and Jenda Pai Kapiraju didn't have any takers.
Bhale Bhale Magadivoy which was released 4 September 2015 has made him a star. He didn't have to turn back from the success of BBM as he continued his hit streak with films like Krishnagadi Veera Prema Gatha, Gentleman and Majnu. If his script selection (different scripts right from Yevade Subramanyam) made sure that he increased his range of success and brand value from film to film, it was Nenu Local that increased his star value. Nenu Local is a kind of film that works only if star has pull/stamina at box office. Eulogies like 'one man show' and 'carried the entire film on his shoulder' were used to describe Nani's contribution to Nenu Local.
Bigger star in United States than in Telugu states
Nani's Yeto Vellipoyindi Manasu and Yevade Subramanyam films have collected over $250,000 each in USA. Bhale Bhale Magadivoy supported by good reviews and variety yet popular content has generated $1.4 Million in USA by throwing Nani into big league. He followed it up with nice numbers for KVPG ($772k), Gentleman ($907k) and Majnu ($512k). Nenu Local had the support of good production house (Dil Raju) and entertaining content. But getting more than one million dollars in USA with average story needs a star. And Nani turned out to be a big star in USA with Nenu Local film.
Next Enti?
He is currently doing an USA based film with a new director. Nani has always been choosing new directors (or relatively new) and delivering successes (except for big directors like Rajamouli and Gowtam Menen). He has been playing safe (in terms of budget) though he is choosing content that works. When is he going to up the ante and go really big in terms of budget and extravagant content. Only time will tell!!!