3 December 2012
Hyderabad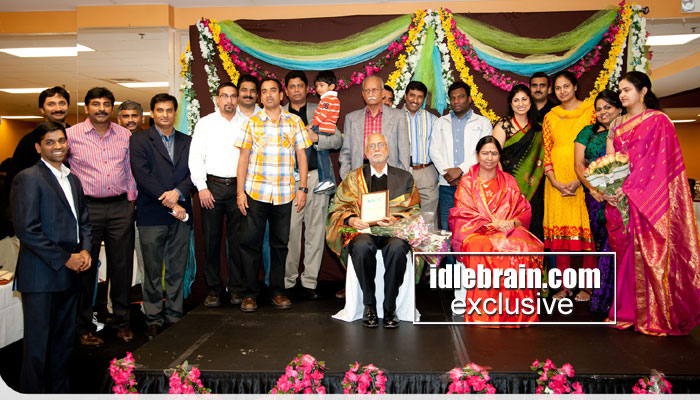 Atlanta Telugu community hosted a meet and greet event with Smt. Galla Aruna Kumari, Honorable Minister of Geology & Mines and Dr. Galla Ramachandra Naidu a prominent industrialist and founder of Amara Raja group of companies on the 29th of November 2012. The event was sponsored by ChittoorNRIS group and North America Telugu Society(NATS) and supported by the local telugu association in Atlanta, TAMA. On a cold November night during a weekday, the warmth of Telugu hospitality could be felt from the audience.

The event started off with a social hour accompanied by some soulful singing of a blend of old melodies and new rhythms by Ram Durvasula and Sneha Chaturvedula, in addition to some mellifluous music from the Kondur family (Srivalli, Rashmi and Shriya). Vijay Ravilla welcomed the chief guests Smt. Aruna Kumari and Sri. Ramachandra Naidu thanking them for taking the time to visit Atlanta and spending precious time with the community. With Vijay passing the baton to the night's Master of Ceremonies Malathi Nagabhairava, the program went into high gear. Starting with Ganesh Prardhana by the Rashmi Kondur and Shriya Kondur , Jyoti Prajwalana by the chief guests and maybe for the first time, that happened in any event, representatives of local and national organizations like TAMA,GATA, NATS, ATA, TANA and NATA were acknowledged and few of them spoke on stage. Vijay Ravilla made a presentation about ChittoorNRIS.org and talked about the service activities conducted by the organization. Interspersed within the speeches were Malathi's reference to Rayaprolu Subbarao's song "Ye Desamegina Endu Kaalidinaa" and nuggets of information about Chittoor and it's prominence in different facets of life, be it holy places, intellectuals or industries. She then welcomed Sri. Vadlamudi Venkatest Babu to introduce Dr. Ramachandra Naidu to address the audience. He talked about how Dr. Naidu has been an inspiration not only to him but also a lot of youth from Chittoor and his patience and perseverance and his vision about helping the society. An interesting anecdote he shared was about the three A's that are talked about in Chittoor district "Aavulu, Amararaja and America" being the main source of living.
Despite having a sore throat and barely able to speak, Sri Naidu gave an inspirational speech about the origins of Amara Raja group and reminisced about their days in Chicago. His speech was followed by Smt. Aruna Kumari, who thanked the participants and the coordinators for taking the time to invite them. Interestingly it seems it was her first visit to Atlanta and based on her comments, the community made a big impression on her. She also talked about their decision on when they moved back to India within a span of three months after taking the decision. She also talked about how they say many of their friends move back after a while, and how their steadfast determination give something back to the community being their main motive helped them stay and build a huge business which now employs more than 9000 people. Also by building the industries in the rural areas as against the general trend of staying in the metros, they were able to bring up the quality of life in those areas also the standard of living for the people there. The fact that they also started a women only unit, which now employs close to a thousand women, shows the vision and the social consciousness of the couple. The couple also exhorted the audience to come back to India, bringing with them the expertise and innovation to help build a stronger India.

The event concluded with the felicitation of the couple by ChittoorNRIS.org, TAMA and North America Telugu Society(NATS) followed by dinner and entertainment. They were also formally invited to the NATS "America Telugu Sambaralu" to be held in Dallas from July 4-6, 2013 by NATS Chairman Dr. Ranakumar Nadella, NATS Vice President Sri. Srinivas Lavu, NATS Joint Treasurer Sri. Prasad Papudesi.