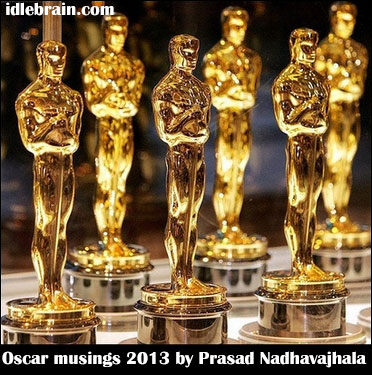 February 21, 2013
San Francisco
'Argo'. 'Life of Pi'. 'Lincoln'. 'Zero Dark Thirty'. 'Django Unchained'. 'Silver Linings Playbook'. These are the kind of movies that will make to the list of the best ever made. And it is splendid and surprising that they all came in a single year and vying for one 'Best Film' Oscar. Welcome to 2013 Academy awards – no year in the recent memory had seen these many great films with memorable cinema moments. This is what makes this year's Oscars so interesting and the predictions so challenging.
2013 Oscars are also turning to be a film trivia delight with a rainbow of diverse talents and works: Did any movie in the past garner nominations in four major acting categories like 'Silver Linings Playbook'? Is there anyone like George Clooney (co-producer of 'Argo') to receive Oscar nominations in 6 different categories? Is 9-year old Quvenzhané Wallis ('Beasts of the Southern Wild') the youngest star ever to win "Best Actress" nomination? When was the last time an acclaimed movie nominated in "Best Film" category ('Argo' and 'Zero Dark Thirty') without a "Best Director" nomination?
Some of this year's "Best Film" nominees may sound like history classes -- 1979 Iran hostage rescue ('Argo'), Killing of Osama Bin Laden ('Zero Dark Thirty'), Horse-trading congressmen to pass a President's bill ('Lincoln') and Slavery in pre-Civil War era ('Django Unchained'). These movies along with 'Life of Pi' are the strong contenders to go down in history as the Best Film of 2012. 'Argo' looks like a front-runner based on the various wins it scored in the award season leading to Oscars.
With "Best Film" nomination count raised to 10 but "Best Director" nominations limited to 5, we saw shocking omissions like Ben Affleck ('Argo') and Kathryn Bigelow ('Zero Dark Thirty') in "Best Director" category. It leaves the field open to Steven Spielberg ('Lincoln') and Ang Lee ('Life of Pi'). Spielberg (whose Dreamworks produced 'Lincoln' with Anil Ambani's Reliance) is the media favorite to win his third Oscar (after 'Schindlers List' and 'Saving Private Ryan') but Ang Lee may throw the upset of the night. Yann Martel's Booker prize winner 'Life of Pi' was left out from celluloid for years because of its unfilmable spirituality overtones. But Lee made it into a stunning visual spectacle in 3-D which was also a worldwide box-office smash collecting more than $600 million.
One category that is already a lock on Sunday night is "Best Actor" award. Daniel Day Lewis as 'Lincoln' is Ben Kingsley's 'Gandhi' of our times. His superb performance as the 16th President of US with beard and high tenor voice is literally towering over the fellow nominees Joaquin Phoenix ('The Master') and Denzel Washington ('Flight').
"Best Actress" fight is among the ladies ranging from a 9-year old Quvenzhané Wallis ('Beasts of the Southern Wild') and 86-year old French actress Emmanuelle Riva ('Amour'). But the actual race is between Jessica Chastain ('Zero Dark Thirty') and Jennifer Lawrence ('Silver Linings Playbook'). Lawrence is irresistible as an eccentric widow in mad rom-com but it is Chastain who will win the prize for her performance as the formidable female CIA operative in the greatest manhunt in history.
Best Supporting Actor nominations are all shared by the past Oscar winners. Robert De Niro returns to Academy award nominations after more than 20 years with 'Silver Linings Playbook'. Tommy Lee Jones was very impressive as the congressman Thaddeus Stevens in 'Lincoln'. But Christopher Waltz will take the podium with his near-perfect portrayal of the bounty hunter in 'Django Unchained'.
Best Supporting Actress nominations are also rich with some excellent works. Jacki Weaver is delightful in 'Silver Linings Playbook' and Sally Field stole the show as Mary Todd Lincoln in 'Lincoln'. But Anne Hathaway will take the award for her doomed prostitute role of Fantine in 'Les Miserables'. It will be some consolation to Hathaway who was the original choice in David O. Russell's 'Silver Linings Playbook'.
Indians embraced 'Life of Pi' as their own film because of its predominantly Indian characters and cast (Tabu, Suraj Sharma, Irrfan Khan and Adil Hussain). Apart from visual and sound awards, the film is expected to have a strong showing in music category. Canadian Mychael Danna is a hot favorite to win Best Original score. But his "Best Original Song" nomination "Pi's Lullaby" written and sung by Bombay Jayashri has a heavyweight competitor -- Adele's theme song of James Bond film 'Skyfall'. Will Bombay Jayashri's lullaby bring another Oscar laurel to Indian music after AR Rahman and Gulzar ('Slumdog Millionaire')? Entire India can't sleep till Sunday night!
My predictions for Oscar night:
Best Picture: 'Argo'
Best Director: Ang Lee ('Life of Pi')
Best Actor: Daniel Day Lewis ('Lincoln')
Best Actress: Jessica Chastain ('Zero Dark Thirty')
Best Supporting Actor: Christoph Waltz ('Django Unchained')
Best Supporting Actress: Anne Hathaway ('Les Miserables')
Best Original Screenplay: Mark Boal ('Zero Dark Thirty')
Best Adapted Screenplay: Chris Terrio ('Argo')
Best Film Editing: William Goldenberg ('Argo')
Best Animated Feature: 'Brave'
Best Foreign Feature: 'Amour' (Austria)
Best Documentary Feature: 'Searching for Sugar Man'
Best Visual Effects: Bill Westenhofer, Guillaume Rocheron, Erik-Jan De Boer and Donald R. Elliott ('Life of Pi')
Best Cinematography: Claudio Miranda ('Life of Pi')
Best Music (Original Score): Mychael Danna ('Life of Pi')
Best Music (Original Song): "Pi's Lullaby" from 'Life of Pi' (Music by Mychael Danna; Lyric by Bombay Jayashri)
Best Sound Editing: Eugene Gearty and Philip Stockton ('Life of Pi')
Best Sound Mixing: Ron Bartlett, D.M. Hemphill and Drew Kunin ('Life of Pi')
Best Production Design: 'Anna Karenina'
Best Costume Design: Jacqueline Durran ('Anna Karenina')
Best Makeup and Hairstyling: Peter Swords King, Rick Findlater and Tami Lane ('The Hobbit: An Unexpected Journey')
Past articles:
Oscar musings 2012
Oscar musings 2011
Oscar musings 2010
Oscar musings 2009