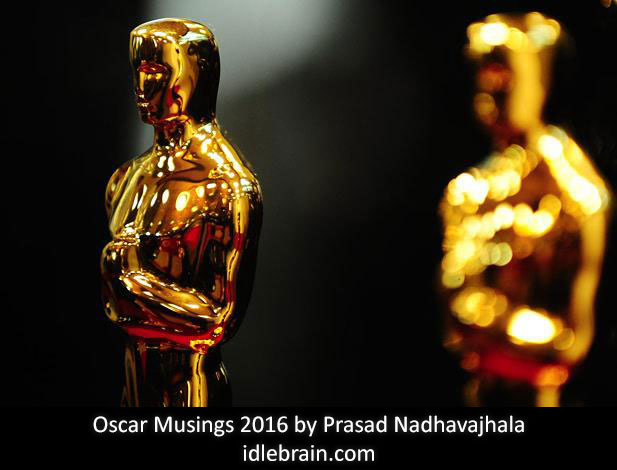 26 February 2016
San Francisco
British Indian Asif Kapadia made a splash with his debut feature film in Hindi -- 'The Warrior' starring Irrfan Khan. His documentary film 'Amy' is this year's frontrunner for Oscar in 'Best Documentary' category. Based on the life and death of Amy Winehouse, one of the greatest singer-songwriters of this generation, 'Amy' was painstakingly constructed from her real footage in concerts, home movies and paparazzi videos. Asif's work received huge applause for his unbiased narration of her failed relationships and drug addiction – sometimes in her very own words. After watching the film, everyone will rush to listen to her chartbusters like 'Back to Black', 'Rehab' and "I'm no good" with more focus on her lyrics.
Mexican director Alejandro González Iñárritu ("Amores perros", "21 Grams", "Babel", "Biutiful") is on a roll these days. His film "Birdman" won the best film last year and he is back this year with 12 nominations for the 19th-century revenge saga "The Revenant". Shot extensively in Canada and Argentina, "The Reverant" is the stuff Academy loves to honor: grand canvas drama with uncompromising execution, riveting performances and captivating cinematography. The film is expected to win big on Oscar night – Best Film, Best Director and Best Actor.
Leonardo DiCaprio had a terrible date with Oscars so far. He was ignored by the Academy for his popular performances in "Titanic", "Catch me if you can", "Gangs of New York" and "The Departed". He had to return empty-handed 3 times after he was nominated in Best Actor category in "The Aviator" (2004), "Blood Diamond" (2006) and "The Wolf of Wall Street" (2013). But it is finally turning out to be Leo's year and he can now prepare the acceptance speech for his role in "The Reverant". As American frontiersman Hugh Glass, he did more than superlative acting -- endured freezing temperatures, slept in animal carcasses, ate bison body parts and enacted that violent bear-attack scene.
'Room' is a 2010 novel by author Emma Donoghue and depicts the story of a kidnapped woman and her child held captive for seven years in an isolated closed room. Film adaptation of such one-of-a-kind story is very challenging but director Lenny Abrahamson's "Room" is a miracle in film-making. Otherwise how can we spend more than an hour glued to the screen and watching only two characters in one closed room? Credit to the success of this film goes to the two great performers – actress Brie Larson and Jacob Tremblay as her 5-year old son. Brie Larson is not a popular star ("21 Jump Street" and "Trainwreck" ) but we will see more of this highly talented 26-year old after she walks away with the Best Actress trophy on Sunday.
Best Supporting categories are the most unpredictable this year. Fight for 'Best Supporting Actor' is between Sylvestor Stallone ("Creed") and Mark Rylance ("Bridge of Spies"). Stallone never won an Oscar in his illustrious career and this sentiment may give him an extra vote to take the trophy. 'Best Supporting Actress' race is between the veteran Kate Winslet as the marketing executive in "Steve Jobs" and Swedish actress Alicia Vikander in "The Danish Girl". Vikander, who also starred last year in sci-fi classic "Ex Machina", may be the winner.
Writer-Director Tom McCarthy's "Spotlight" is the best film about journalism in the recent times. This film has an ensemble cast (that includes 'Best Supporting' nominees Mark Ruffalo and Rachel McAdams) as Boston Globe journalists who exposed decades of sex abuse allegations in the Roman Catholic Church. This film, made by the same producer of "The Revenant", is a dark horse in the race for "Best Film" and is a sure winner in "Best Original Screenplay". Another 'Best Film' favorite "The Big Short" is about the corporate greed during the Wall Street meltdown in 2008. It may just end up short of winning the big prize but will win "Best Adapted Screenplay" for director Adam McKay and Charles Randolph.
Australian director George Miller created a global phenomenon with his debut film "Mad Max" in 1979. The film became a powerful franchise with the sequels "Mad Max 2" and "Mad Max Beyond Thunderdome". After family entertainment like "Babe" and "Happy Feet", Miller returned in 2015 with the high octane sequel to his Mad Max series -- "Mad Max: Fury Road". This film, one of the few sequels ever nominated in 'Best Film' category, received a total of 10 nominations. George Miller may not get himself an Oscar but his new Mad Max will get one to his wife Margaret Sixel in 'Best Editing' category. And the film's expected sweep in other categories 'Best Makeup & Hairstyling', 'Best Production Design', 'Best Visual Effects' and 'Best Sound Editing' categories may make it one the best Australian nights in Oscar history.
My predictions for Oscar night:
Best Picture: "The Revenant"
Best Director: Alejandro González Iñárritu ("The Revenant")
Best Actor: Leonardo DiCaprio ("The Revenant")
Best Actress: Brie Larson ("Room")
Best Supporting Actor: Sylvester Stallone ("Creed")
Best Supporting Actress: Alicia Vikander ("The Danish Girl")
Best Original Screenplay: "Spotlight"
Best Adapted Screenplay: "The Big Short"
Best Animated Feature: "Inside Out"
Best Editing: "Mad Max: Fury Road"
Best Cinematography: "The Revenant"
Best Original Score: "The Hateful Eight"
Best Original Song: 'Til It Happens to You' ("The Hunting Ground")
Best Costume Design: "Cinderella"
Best Makeup & Hairstyling: "Mad Max: Fury Road"
Best Production Design: "Mad Max: Fury Road"
Best Visual Effects: "Mad Max: Fury Road"
Best Sound Editing: "Mad Max: Fury Road"
Best Sound Mixing: "The Revenant"
Best Foreign-Language Film: "Son of Saul"
Best Documentary: "Amy"
Prasad Nadhavajhala can be contacted at [email protected]

Past articles:
Oscar musings 2015
Oscar musings 2014
Oscar musings 2013
Oscar musings 2012
Oscar musings 2011
Oscar musings 2010
Oscar musings 2009