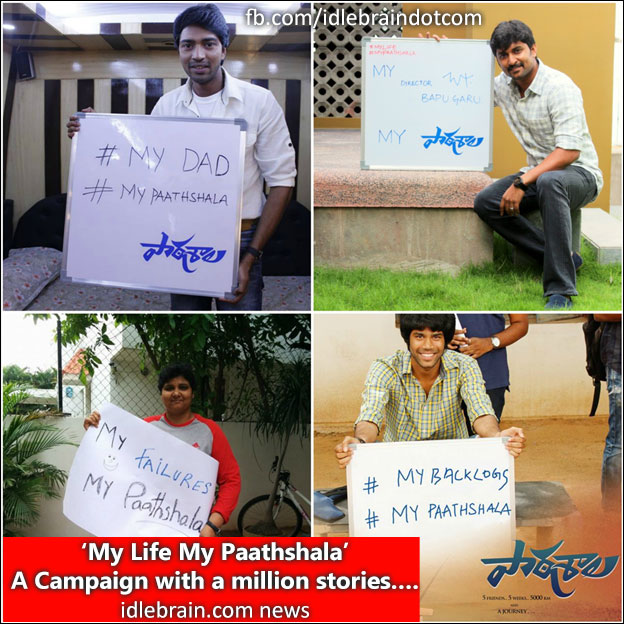 30 September 2014
Hyderabad
If you have a right story to tell, if viewers can relate to it, film making will not be a costly affair. Upcoming Telugu movie Paathshala produced by Rakesh Mahankali under the banner Moon water pictures, written and directed by Mahi V Raghav is the best example for that. Not only the movie, but also the campaigns have a story in itself.
Paathshala is a movie of five friends who set on for a road trip, carefree. Little did they know that this journey is going to be their 'Paathshala'? Inspired by the story line, and also the term, Paathshala which means the 'place of learning'; the crew started the 'My Life My Paathshala' campaign.
Where fans are requested to share their idea of 'Paathshala'. The campaign created a huge buzz online and offline. From celebrities to college students to anyone who is someone participated in the campaign.
Covering whole Hyderabad including Charminar, Tank bund, Cbit college, MallaReddy Engineering College, Theaters, Bus stands and also busy roads.
The success of the campaign shows, every common man has a story to tell, if you have the ear to listen, those stories will be shared.  If you have a campaign with right intention, you don't have to be worry about the reach, people will reach you. The response for my life my Paathshala campaign shows the same – with just 500 rupees, the Paathshala team is successful in reaching more than 5 lakhs through BTL activity, social networking and also  huge support from online media.
Actor Nani shaid "My Director Bapu garu, My Paathshala". Also celebrities like Allari Naresh, Nandini Reddy, JD Chakravarthy, and Navdeep also extended their support sharing their Paathshala. The participation also has broken age barriers. From 5-year-old to 50-year-old, a cross section of people has shared experiences.
Like campaign, like movie. The movie is big not in terms of budget, but in terms of story and idea. Actors of the movie are not superstars but characters are.
Campaign is just a beginning of the journey, long way to go. Paathshala is going to hit theatres on Oct 10th.