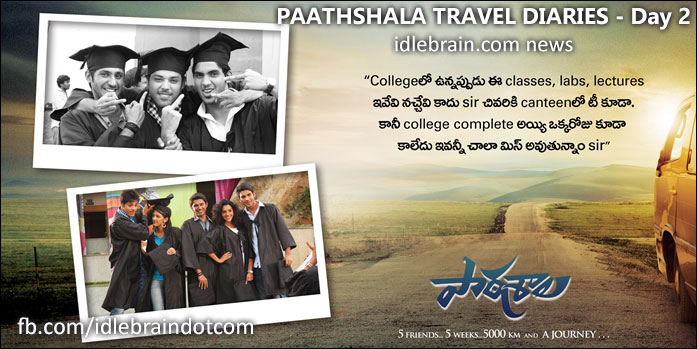 02 October 2014
Hyderabad
TIME: Mid day (summer noon)5:30am (sunrise shot)
PLACE: COLLEGE ADDA

Dialogue: 'College lo unnapudu ee classes, labs, lectures, evvevi nachevi kadhu sir, chivariki canteen lo tea kuda. Kani, college complete ayyi oka roju kuda kaledu, evvanni chala miss avutunam sir.
SHOOT LOG:
It was the First schedule of the shoot; Team was both excited and nervous and guess that translated to the mood while shooting the last day of college in film.
SCRIPT LOG:
5 friends: Surya, Sandhya, Adi, Salma, RAJU at the graduation ceremony, A bitter sweet moment for every one of them.
And Raju says 'I hated waking up in the morning, the long lectures, the lab, the exams and even the tea in the canteen and now after walking out of the gate I realize that I loved it all and called it hate.'
.