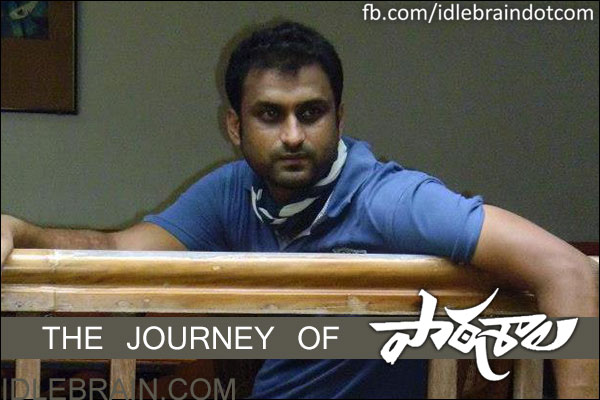 26 July 2014
Hyderabad
With The final copy of Paathshala done, it's been a beautiful journey...Characters though they are illusionary; they will remain close to my heart. Creating characters exploring & knowing them was more like discovering myself. Writing Paathshala has been most beautiful and liberating thing to have ever happened to me. Thanks to the Unknown for all the ideas which came from NOWHERE and to the KNOWN people, experiences, Google and the huge library of road movies.
To the real characters who made this movie possible, firstly it will be the producers Rakesh Mahankali and Pavan Kumar Reddy, ever grateful to them for the trust on the script and more importantly to risk their hard earned money on a debutant.
The four strangers Rahul Raj (Music director) Sudheer Surendran (DOP), Shravan Katikaneni (editor) & Hyndavi Suda ( costumes & styling) who turned friends forever. Honestly with very less or no knowledge on any of these crafts, Paathshala was purely possible and is what it is because of these four.
Like any other independent film Paathshala has been too big dream with very few dollars in hand. It wouldn't have been possible without passion and generosity of these wonderful people who went out of their way to help us out in providing at No cost or discounted to the bottom. Meka Siva Rami Reddy for his ever unconditional support, K.L. Damodar Prasad & Vivek (Sri Ranjith Movies), Sashaank (Artist), Taher (unit), Anil & bhanu poster designers, C.V. Rao & Siva (Annapurna studios), Rajashekar (dialogues), Rahul Rajan (sound mix), Raghu (dubbing), Vijay Bhaskar (Visual promotions), Priyanka Rj, Krishna chaitanya, Shree mani ( lyrics), Nandini raja (casting), Sinu ( Silly monks), Arugop & Abhilash ( dop dept.) C. Suresh Kumar (artist) and the 5 main cast Nandu, Sai Ronak, and Sirisha Vanka, Hamood and Anu priya.
And lastly to my direction team Vijay sangita (first assistant), Anish Prathipati, Jeevan Koneti, Dileep basava, Chandu and Ravi without them not a day or an hour of work would have been possible.
The process of writing and directing Paathshala in two words has been "life changing and spiritual". Irrespective of fate of movie at the box office, it's been an incredible journey, knowing that we couldn't have done anything different or better.
Mahi V'raghav
Paathshala (Writer & Director)