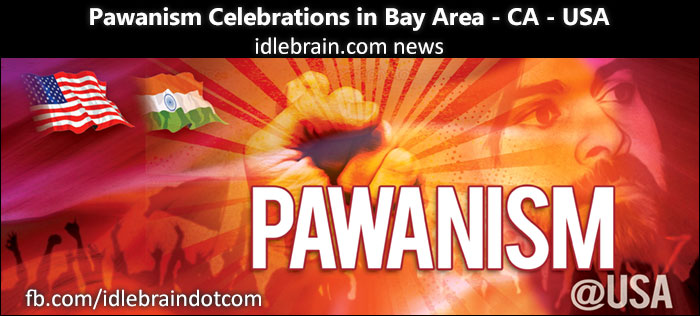 05 October 2015
Hyderabad
Pawan Kalyan, as many know, is a maverick actor and philanthropist with a large fan following. Despite his modest tally of films in Tollywood, he remains one of Telugu cinema's biggest stars, even though having delivered only few super hits such as Tholiprema, Thammudu, Badri, Kushi, Jalsa, Atharintiki Daredhi and Gabbar Singh but nevertheless, enjoys the cult following rock stars dream of at their zenith.

We come across a lot of "ism's" in our lives - Communalism, Socialism, Capitalism, Feudalism, Asterism, Marxism… but not many have heard about "Pawanism", which could almost be termed as a religion or cult formed and followed by Pawan Kalyan fans. If Sachin Tendulkar is known as the god of cricket by his fans, Pawan Kalyan enjoys similar prerogative not just due to his "reel" life exploits, but more so, due to his immense contributions in his current "real" life. Yes, it is about his ideologies, creativity, style, etc. which has institutionalized this ism in the form of t-shirts, stickers and tattoos sighted at screenings of his films and T20 matches. As is often the case, with stardom and success comes glamour and style. But Pawan has defied all odds and perhaps unsurprisingly, his mettle in acting now far outstrips his social responsibility. The sensitive actor has the good intentions of highlighting the wrongs in the society and wants to be always on the common man's side giving him the collective adulation of millions of fans not only from the film industry, but from other fraternities as well.

From donating lakhs of rupees to the flood victims in Uttarakhand and Vizag, to helping children with cancer, installing bore wells in villages at his own expense, donating to orphanages, old age homes or even helping the air rifle shooter Rekha who is getting trained for the next Olympics – his philanthropy work is usually done under wraps. Never looking at trumpeting his good deeds, which cross national, regional, political and religious boundaries, he continues to gain more and more love, and continues to win the hearts of many more.

Now, the question that needs to be answered is, if a superstar can devote his valuable time, money and efforts towards such great causes, why can't we as a common man do our bit towards performing charitable or benevolent actions? Or do we stick to the callous attitude that 'others' will do it, so why should I bother ? kind of mindset that exists in most of us.
We live in a world of inequalities, where caring and sharing is needed the most. The kindness we show through our acts holds a special place in our hearts, it can be meaningful and feel good for the soul. Charity is not just about the rich helping the poor and the strong helping the weak. It need not be a registered entity raising funds, it can be as simple as a group of friends working from our garages, pooling in some money and time to sustain a good work. This is what Pawanism stands for – bring together the common masses, joining hands to make a positive difference in the lives of the ones who need it the most. Yes, the superstars can do it, but we can be our own super stars, by doing our bit. Come join us and be a part of this 'Pawanism' on 10th Oct 2015 to show our support and solidarity to Pawanim's ideology.
Jai Pawanism