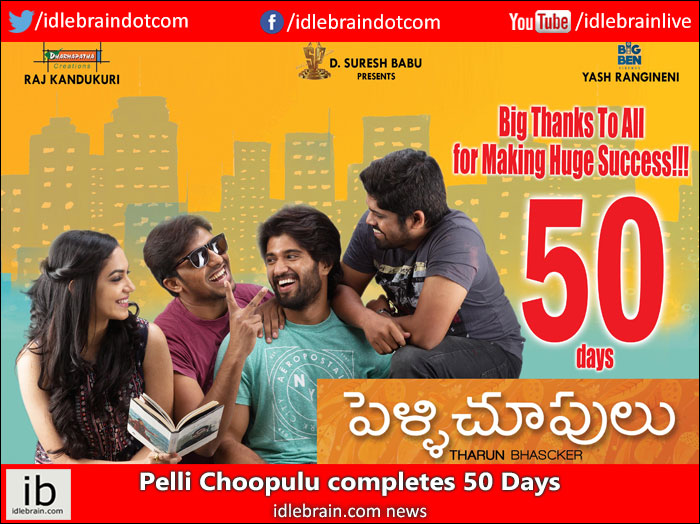 16 Septembre 2016
Hyderabad
The biggest small movie of this decade #pellichoopulu is completing 50days run in all centres in TS, AP and USA. This movie has given fresh breath of air for small content based movies in Telugu.
Jubilant Producer Raj Kandukuri says "This is a wonderful day. I have never seen it before. #Pellichoopulu movie has globally reached it's 50th day successfully and I take this opportunity to thank each and everyone who made it possible. I thank Tharun Bhaskar for bringing in new age cinema to treaters and Vijay Devarakonda, Ritu Varma and the entire cast and crew for believing in it and giving their best.
Firstly I thank the media, critics, our friends and celebrities for their unconditional support and endorsement for a small movie with great content, to reach millions of hearts. Then I thank the audience whose judgement once again proved to be supreme.
And I finally thank my best friends Madhura Sreedhar Reddy, D. Suresh Babu garu, the team of Suresh productions and the team of Madhura audio who took it to the next level and made a wonderful mark in my film career of 10 years as a producer.
This success makes me more responsible to make even better movies in future, which I'm committed to. I cherish this precious moment in my heart forever and can't ask for anything more. I once again profusely thank you all so much.