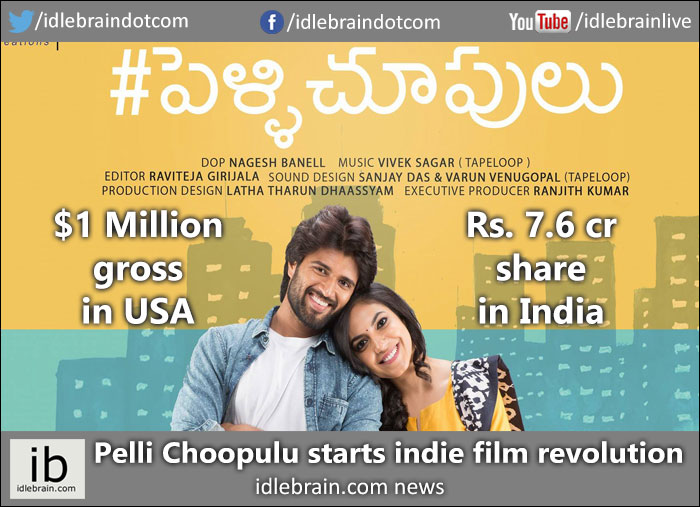 20 August 2016
Hyderabad
Directed by the first time director Tharun Bhascker who proved his mettle with a few short films, Pelli Choopulu is shot with independent filmmaking style. It didn't follow the regular work-flow of Telugu films. It made in a shoe-string budget. The main technical crew are the first timers with short films backdrop. The freshness in the film is so evident that it's lapped up by A center and overseas audiences like never before.
Indianside story - Rs. 7.6 cr share so far!
Made with a budget of 1.2 crores by new director and relatively new cast, Pelli Choopulu had it's share of uncertainty prior to release. Producer Raj Kandukuri never had a hit to his credit. It was Daggubati Suresh Babu who sensed box office potential in the film when he watched a specially arranged preview. He came forward to distribute the film. Producers have arranged special previews to test audiences and media prior to release. Most of the reviews were written before release of the film.
D Suresh Babu who has tremendous understanding of how distribution works made sure that the film is released in limited theaters (99 to be precise). Pelli Choopulu was released mostly in A (77) centers and a few B (22) centers. Though A centers had an encouraging response, B centers gave a thumbs down to the film. The producers discontinued film in B centers and kept screening the film in A centers. The film has got released in B centers again in 4th week (yesterday) and it's generating better revenue.
With the encouraging response in A centers, the producers have released Pelli Choopulu in metro centers out of Telugu states like Chennai, Bangalore, Delhi, Pune, Mumbai, Orissa, Gujarath, and Gurgoan.
As of 4th Friday, Pelli Choopulu has generated 21,38,572 footfalls by generating a share of Rs. 7.6 crores in India. This is made possible because of the trust producer has on his product and the meticulous distribution strategy of D Suresh Babu. Madhura Sridhar has been the invisible force behind the movie as he handles promotion and media planning of the film in the most effective way.
Westside story - Million Dollar Miracle
A film of Pelli Choopulu stature - however good the movie is, has a market of $200,000 in USA. Pelli Choopulu was bought for a paltry amount of Rs. 12 lacs as it was treated as a penny stock while buying. Since it has generated a good buzz, the new distribution agency Freeze Frame Films LLC has released the movie in 51 locations on 28 July. Then added 10 screens in 3rd week followed by 9 screens in 4th week. On 19 August, Pelli Choopulu has crossed 1 Million dollar landmark to gross $1,011,146. It's a huge achievement for a small film with no star value. It all started with a collection of just $17,432 collection through premieres in USA!
We have to wait and see if Pelli Choopulu is just a flash in a pan or more small films with good content keep this momentum flowing!