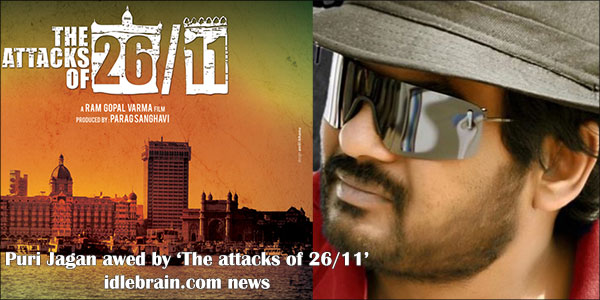 Puri Jagan who is a big fan and follower of Ram Gopal Varma has watched the premiere of 'The Attacks of 26/11' tonight and is short of words to describe his feeling. Here are his tweets
Still reeling in the patriotic hangover after watching the terrific emotional saga 'attacks of 26/11'
Who else on the Indian movie arena can dare to venture and narrate it to the levels of such emotional excellence ... but 'RGV'
Al-Qaeda will never let its members watch this movie for it will sure transform its terrorists into Humanitarians.
Nana patekar at his peaks. Hats off to his legendary performance in the Indian cinema history. Love u nana.
Manwhile, actress Charmme has also watched the premiere and she says, "Just saw 26/11 @RGVzoomin ... I have no words .. But lots 2 express"
The Attacks of 26/11 and it's Telugu version '26/11 India Pai Daadi' is releasing on 1st March 2013 worldwide.