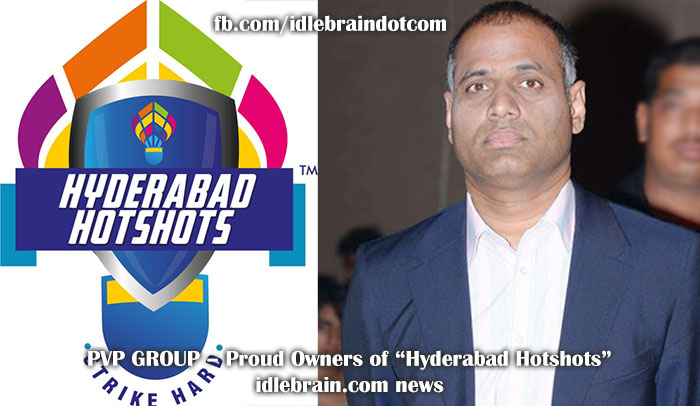 22 July 2013
Hyderabad
PVP Ventures Ltd. ventured into the sporting arena with the Hyderabad based franchise of the upcoming Indian Badminton League named HYDERABAD HOTSHOTS.
At the players auctions held in New Delhi on 22nd July 2013, represented by the owner himself Prasad V Potluri, CMD PVP Group , along with his team – did the expected and bagged the Indian Star and Olympic medalist - Saina Nehwal. Saina was the 1st Icon player on auction.
This was followed by buying another class act - Taufik Hidayat from Indonesia; a singles specialist.
The domestic Indian talent hunt started for Hyderabad Hotshots by picking up Ajay Jayaram; another singles specialist.
The Men's doubles pool was filled by V. Shem Goh from Vietnam and Indian player- Tarun Kona.
Hyderabad Hotshots nailed it when Pradnya Gadre was picked up. She is the 2nd highest paid player for Hyderabad Hotshots after Saina Nehwal.
The rest of the team composed of a mix of Indian and overseas players, namely; Tanongsak S, Kanthi Visalakshi, Subhankar Dey and Khim Wae Lin.
Given the quality of players picked up by Hyderabad Hotshots and under the guidance of Coach – J Rajendra Kumar and Team Physio – Ch. Kiran , it is quite apt to say that the franchise has come up with a winning combination.
Hyderabad Hotshots Team

Coach – J Rajendra Kumar
Icon Player - Saina Nehwal – 120000 USD
Pradnya Gade – 46000 USD
Tarun Kona – 38000 USD
Ajay Jayaram – 25000 USD
Taufik Hidayat – 15000 USD
Tahongsak Saensomboonsuk - 15000 USD
V Shem Goh – 10000 USD
Khim Wah Lim – 10000 USD
Kanthi Visalakshi – 3000 USD
Subhankar Dey – 3000 USD