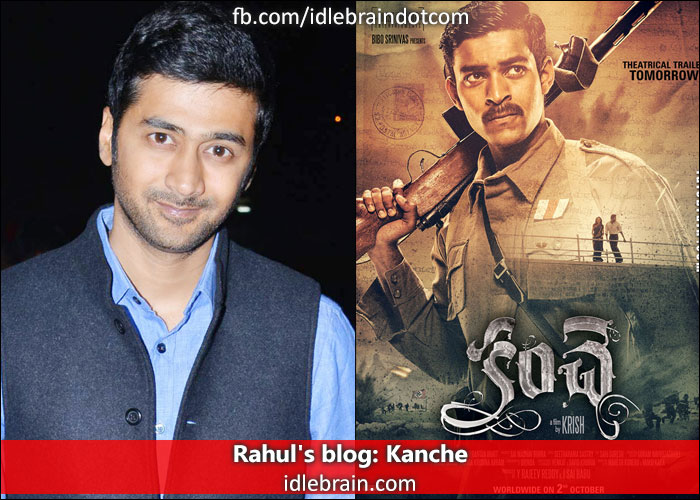 27 October 2015
Hyderabad
Do you have love and hope in your arsenal? Kanche sure does!
A film with its heart in the right place, espousing the right messages. Age old, even cliched messages maybe, but the right messages... And importantly, still very relevant messages. This message conveyed in a grand manner...Constructed in the most epic setting in recorded history...Conveyed without any preaching or boring monologues...Conveyed through characters we want to love and through emotions that pull you in... Cooked with a dash of every requisite spice like action, comedy, romance, music etc... Isn't this the age old template for an Indian blockbuster film?
Some cook it just right, some leave the broth in the pot for too long and some switch off the stove a bit too early. But very few cook it with love and affection, with sincerity and dedication. This happens when someone in your family cooks for you on a special day. Like Dusshera perhaps. Or it happens when a chef in a restaurant loves his job and derives his/her greatest pleasure from a well cooked broth.
Director Krish loves dearly and deeply both his dish and the ones he will feed it to. He first gets his template in place, checks off all the boxes and then turns his attention to the craft. Being satisfied with checking off the boxes is not for him. He rises above mediocrity and puts gigantic effort into the craft.
From music to cinematography to art to costume design, Kanche is a film that is exemplary. From a picture of the Queen of England on a matchbox Varun uses to light a birthday cake to the most obvious embellishments, the attention to detail is so heartwarming. And nothing is in your face, mind you. You wouldn't even notice the out of focus matchbox for example. It's just ludicrous that he was able to offer so much quality on a 20 crore budget. The technical values are better than that of big budget films from our Big Brother.. Bollywood. The visual effects were praiseworthy even in potential quicksand sequences like the Nazi Aerial attack in the first half. I didn't once squirm at any of the CG used in the film.
But it's not all gloss. The film's got heart. As big as the Third Reich's tankers. It's a film that says love is the only worthwhile reason to fight a war. That and hope. Be it a class and caste war the hero wages in his native village to emancipate his people's beliefs or the mother of all wars, The world war he fights on foreign soil for people he has no connection with. And he does it all with an endearing smile and positivity. Why.. Because it's worth it. It won over a man like me with hardened anti-war, anti-militarisation views. Fighting for a better tomorrow and for hope.. Even if it's a baby named hope and doing it with a smile are ideals you can't argue with. In a lovely scene.. Varun tells Avasarala Srinivas who has just had an epiphany that "you were in the army, but it's only now that you have become a soldier."
And all this is done in a very measured and endearing manner. Nothing tacky or cheesy at all.
The screenplay goes back and forth between the two wars that Varun fights. We've heard of Pyrrhic victories. Varun is dealt with a pyrrhic defeat in one. But with his spirit intact he wins both these wars and glory in the end. He saves hope.. And his glory uproots the barriers to upward social mobility. The two stories paralleled each other in a poetic tango.
Kudos to Varun for green-lighting this project. Would not have happened if someone hadn't had the guts. He is so perfectly cast as the officer and the loveable gentleman. And his likeable screen presence is an immense asset to the film. Almost the whole cast barring some clearly amateur foreign actors do a neat job.
This has to be the kind of commercial cinema that is the way of the future. Solid story telling as well as great attention to craft. We must proudly showcase this film as one of our industry's blockbusters. For that we must go experience it in theatres. Please do so without delay.
- Rahul Ravindran (Andala Rakshasi, Ala Ela and Tiger)
> Rahul's blog: A man from U.N.C.L.E
> Rahul's blog: A series of Impossible Missions
> Rahul's blog: Inside Out