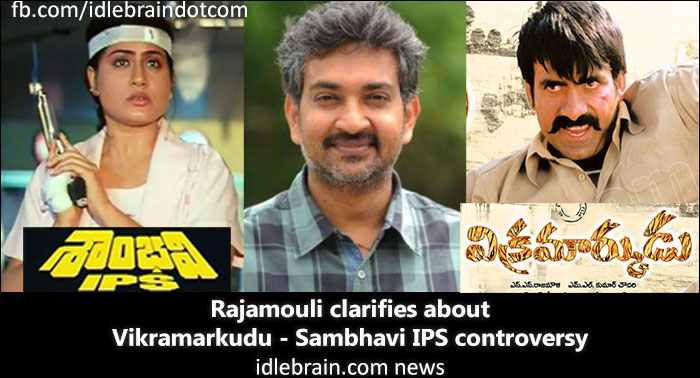 28 August 2014
Hyderabad
There is an episode in Ravi Teja's Vikramarkudu, which is borrowed heavily from 2002 film Sambhavi IPS starring Vijaya Shanthi. Social networking sites have been trolling Rajamouli by comparing videos from both the movies. Sambhavi IPS is written by Paruchuri brothers and directed by KS Nageswara Rao. Vikramarkudu is written by Vijayendra Prasad (Rajamouli's father) and directed by SS Rajamouli.
Both these episodes have few key flow of events -
1. Brother of villain (under the guise of a mental guy) is celebrating his birthday.
2. He asks hero/heroine to strip (villain thinks its justified as his brother is a mad guy).
3. Hero/heroine unloads the gun and take bullets into his/her hand.
4. As the mad brother of villain charges towards hero/heroine, he/she throws bullets on the ground.
5. Mad brother of villain steps on bullets, loses balance and falls down from a storied building.
6. Mad brother gets entangled to something in the way and the belt of hero/heroine acts as a hanging rope (uri thaadu).
SS Rajamouli has responded to this controversy through twitter. And here is his response