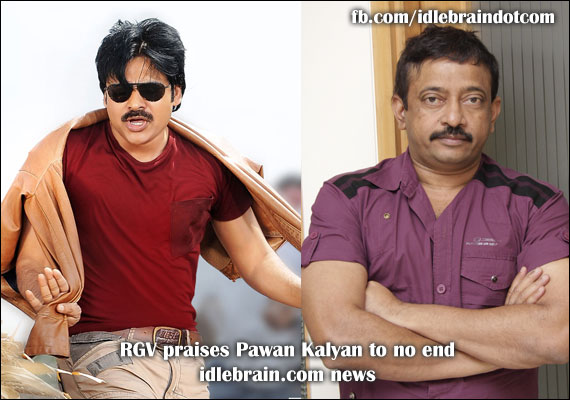 05 August 2013
Hyderabad
Ram Gopal Varma goes all out on twitter if he is impressed with somebody. There could be some selfish motives behind all the praises he dole out. After praising Chiranjeevi for pitching his 'Dora' script, Ram Gopal Varma came up with an exceptional praise for Pawan Kalyan which indirectly targets Chiranjeevi as well.
Here are the tweets he posted for Dora project on 9 January 2011
"I am so dying for chiranjeevi gaarus 150th film to start..can some one tell me why it is not starting?
I know that he will never do a film with me for various reasons between us but I so sincireley wish that I can do 'Dora' the lord with him"
He tweeted about Pawan Kalyan today (5 August 2013)
"I really hope Pawan Kalyan will start his own party..he will be the most dynamic among all actor turned leaders right from Mgr to Chiranjeevi;;
I never voted in my life. ..but I will stand in line and vote for Pawan Kalyan
Its not that Pawan Kalyan needs my vote...from whatever information I have from various people entire Andhra Pradesh is waiting to vote for him
Not since Bal Thackeray did I see such intensity and charisma... commitment in his eyes and honesty in thoughts is what makes Pawan Kalyan
I strongly believe that if Pawan Kalyan headed PRP it would have won with a thumping majority
Nenu kalyan tho cinema cheyyadaniki aa tweets anukunte nenu kalyan ni kalisi 5 samvastharalayindhi..kalise vuddheshyam kuda ledu
Oka director ga kaadhu kevalam andhra pradesh pouruduga pettina tweets avi
Nenichhina tweets chiranjeevigaariki againstgaa kaadhu Pawan Kalyan ki for gaa
Forgetting the technicalities nd associated logistics I believe that only Pawan Kalyan is the future of Andhra Pradesh
If just sharmilas walk can evoke so many followers Imagine what pawan kalyans walk can do....it will create historical history
Just let Pawan Kalyan announce paada yatra nd every Paadayatra ever in history will be forgotten
With the response to Pawan Kalyans Paadayatra my prediction is that it will remind people of Mahatma Gandhis Paadayatra
Pawan Kalyan haa expressions whereas even his closest only have impressions
If Pawan kalyan was not Chiranjeevis brother he would have become a even bigger star"
We all know that RGV is very good at tweeting and he doesn't tweet anything just like that unless it benefits him. We have to wait and see what's brewing in RGV's mind!