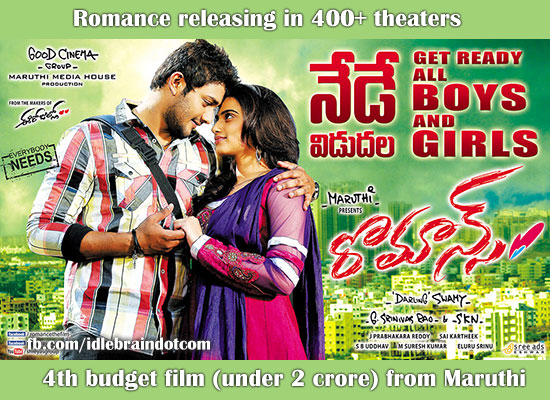 2 August 2013
Hyderabad
Maruthi who has started the successful revolution of low-budget 5D camera digital films with guerilla type of filmmaking with Ee Rojullo film has followed it up with Bus Stop and Prema Katha Chitram. It cost him 75 lacs to get the 1st copy of Ee Rojullo and he has spent another 75 lacs on marketing and promotion of the film. This film has collected around 7 crores and created a new trend. His next film Busstop was made with 2 crores budget and collected around 10 crores. Prema Katha Chithram was shot with a budget of 1.8 crores and collected over 10 crores.

Maruthi selects minimum guarantee subject with youth orientation and delivers in a minimal budget which guarantees profits to producers/distributors/exhibitors even if the film turns out to be average. A special mention should be done to the producers G Srinivasa Rao and SKN who also have a strong marketing/promotion team. They market the film aggressively where it matters. For examples, the local elections results were out during the release of Ee Rojullo. Telangana issue is the hot topic for news channels during the release of Romance film. They have targeted all major news channels and bought ad spots for the special news bulletins in TV channels.
Release timing is also very important. When Damarukam film was postponed, there was tremendous shortage of minimum guarantee film for the exhibitors. Bus Stop was released on the odd day of Sunday to cater this demand and went on to become a huge blockbuster as it had winning content and most of theaters reserved for Damarukam exhibited it. When Yevadu got postponed from 31 July to 21 August, the team has seen another opportunity and quickly announced the release date as 2 August despite of people attention being on Telangana issue.
Romance is the 4th film from the media house of Maruthi and this film is also shot in a reasonable budget of 2 crores. The exhibitors have agressively came forward to exhibit this film as there is no reasonable Telugu film in the last three weeks at AP box office. Romance is releasing in 400 plus theaters. In Nizam it is releasing in 150 theaters. The Hyderabad theater count is 54, which is huge for a film made with 2-crores budget. The producers have made table-profits and with this kind of massive release, Romance is expected to break-even by the weekend if it has minimum guarantee entertainment.